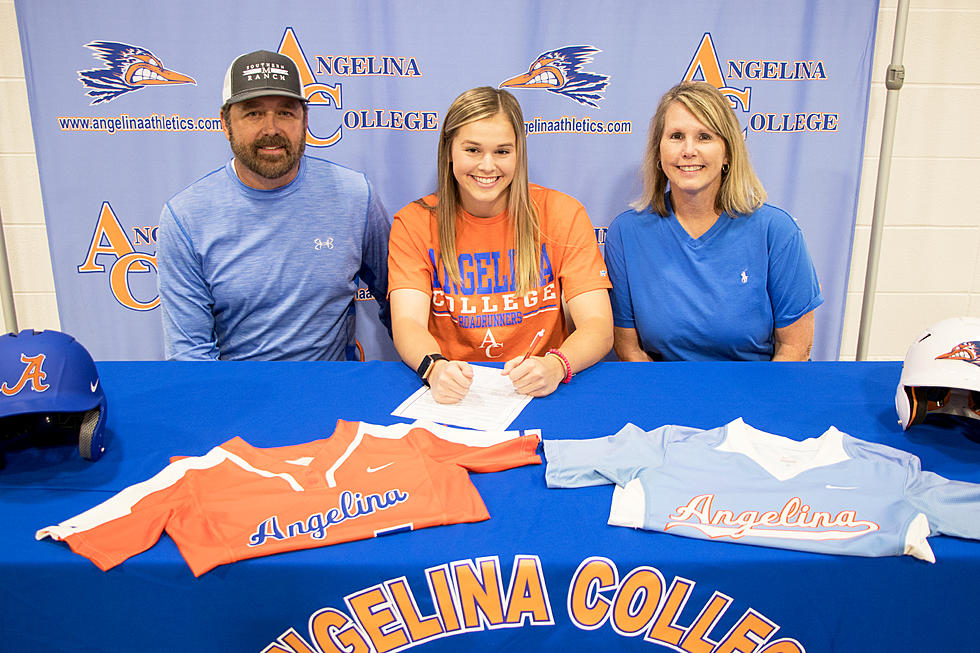 Woodville Standout Signs On to Play Softball at Angelina College
Gary Stallard/AC Sports
Lady 'Runner head coach Josh Barnes has announced the signing of a local standout who will play for the Angelina College softball team in 2020. Woodville's Reagan Smith, a multi-sport athlete from Woodville High School, on Tuesday signed her letter of intent to join the Lady Roadrunners.
Barnes cited both Smith's personality and abilities when explaining how his new outfielder will fit in with the program.
"She's another high character person, and she's a very good athlete as well," Barnes said. "She throws left and bats right, she's athletic and she's tough.
"We're excited to have her. Her potential and athletic abilities are off the charts, and we know she's going to come in here and work and push everybody else, and that's what we're looking forward to the most. She has leadership qualities in her ability to push other people around her to be better."
Smith, who plans to major in Elementary Education, joins former Lady Eagle teammate Kaitlyn Odom, who's currently a member of the Lady 'Runner squad. Smith said Odom and the other Lady Roadrunners made her feel she was already part of the team from the very beginning.
"They were very welcoming when I first came to see a practice, and I've played softball with Kaitlyn (Odom) since I was little," Smith said. "I'll get to play with her for at least one year, so I know that will be fun.
Smith added that the AC softball program's run in the 2019 national tournament – the team finished as national runners-up – also had its appeal, along with the school's East Texas location.
Smith's parents are Shonda and Brett Smith of Woodville. (pictured above)
Enter your number to get our free mobile app