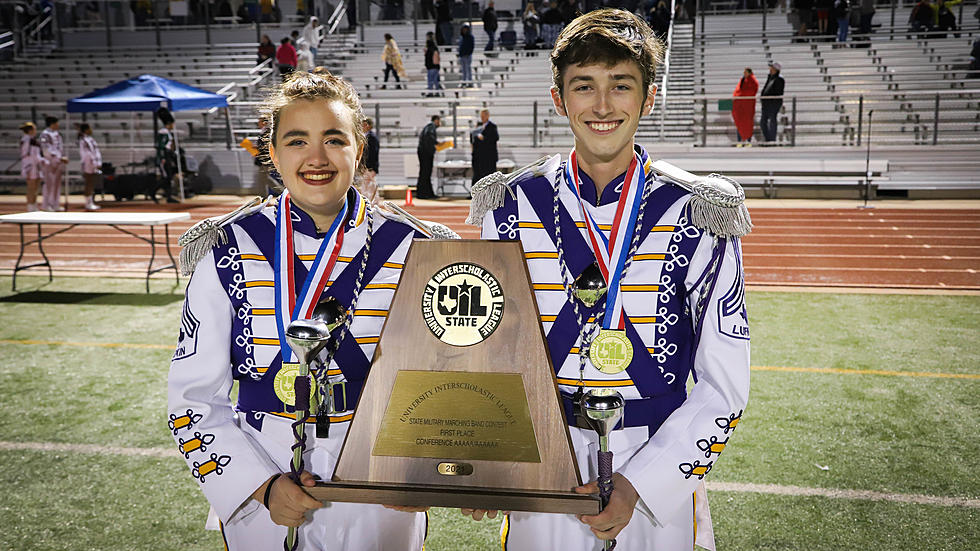 Lufkin Panther Marching Band Brings Home the State Championship
Andy Adams
The Lufkin High School Panther Band brought home a state championship Wednesday thanks to their performance at the first-ever UIL State Military Marching Band Championships. The event was held at Pirate Stadium on the campus of Pine Tree High School in Longview.
The Panther Band competed in the Class 5A/6A division.  Other teams in that division included Humble Atascocita, Ennis, Humble Kingwood, Nacogdoches, Hallsville, Jacksonville, Longview, Whitehouse, Huntsville and Cleveland.  In the finals, three judges scored the marching bands based on their musical performance, while two judges scored their marching.  Lufkin scored in the top three from all judges in their musical performance, while the two marching judges scored the Lufkin Band as the best among all competitors.  Overall, Lufkin placed first followed by Kingwood and Cleveland.
In 2020, Price Carlisle was named state champions in the 1A/2A Division, and Lindale took home the state championship in the 4A Division. As mentioned previously, 2021 is the first year of the 5A/6A competition.  The bands that competed in the 5A/6A level this year ranged in size from Cleveland with 105 student performers to Whitehouse with a total of 200 student performers. The Lufkin High School Panther Band competed with a total of 132 student performers.
Some of the rules for UIL Military Marching include:
Performances are to be between 5-8 minutes.
Any use of electronics or amplification of any kind will lead to disqualification.
Any band that utilizes props of any kind shall be disqualified. Batons, maces, and flags are not considered props.
Step sizes are to be either 30 inches or 22.5 inches.
The Panther Band is under the direction of George Little, Jonathan Aviles and Brandon Beavers.
Lufkin Panther State Championship 2021