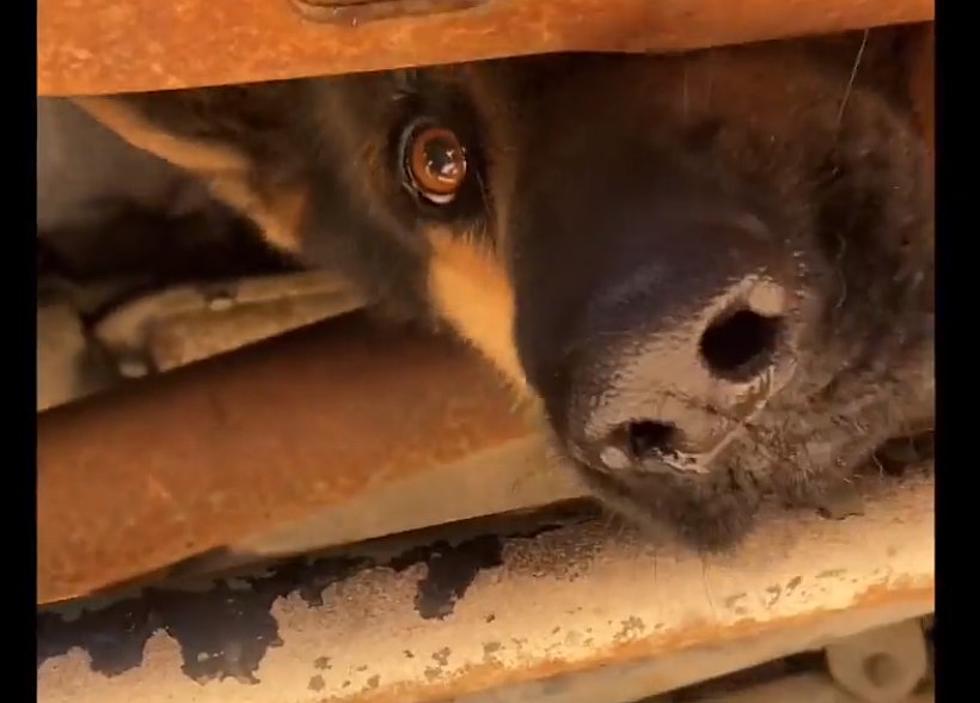 Lufkin First Responders Rescue German Shepherd Stuck Under Truck
Photo still from contributed LPD video
It's stories like this that make you proud to be from Deep East Texas.  You have probably heard the stereotypical story of firemen rescuing cats from trees.  Well, here's one for the ages as a Sunday morning call to the City of Lufkin Police Dispatch turned into a story that reflects the wonderful and caring hearts of our area first responders.
According to a police media release, at 10:25 a.m., the call came in concerning a dog that had somehow gotten stuck under his owner's truck in the 1400 block of Sue Drive. The dog – a 2-year-old German Shepherd named Booger – apparently got scared during overnight storms and climbed into the undercarriage. Booger's owner Roger Grimes said he realized what had happened when he saw his dog's tail sticking out from under the pickup.
Officer Zane Anthony responded to the home and called for the help of Lufkin Fire and Animal Control. Lufkin Fire Captain Eric Parrish, along with Captain Jason Stuck and Firefighter Desmond Garcia worked together to free the frightened canine. They first had to remove the front driveshaft and sway bar. Because Booger was so frightened, he kept trying to bite his rescuers. Animal Control Officer Chad Harris sedated the dog, which allowed firefighters to muzzle him.
With all obstacles removed, Booger was freed. Firefighters then reinstalled Grimes' sway bar and driveshaft. Grimes said Booger is doing well and he appreciates everyone who responded to the call.
"I hated calling, but I didn't know anyone else who could help," Grimes said. "I just want the say thanks to the fire department, police department and animal control. They really pulled me out of a bind."
God bless those wonderful first responders.
LOOK: Stunning animal photos from around the world
From grazing Tibetan antelope to migrating monarch butterflies, these 50 photos of wildlife around the world capture the staggering grace of the animal kingdom. The forthcoming gallery runs sequentially from air to land to water, and focuses on birds, land mammals, aquatic life, and insects as they work in pairs or groups, or sometimes all on their own.