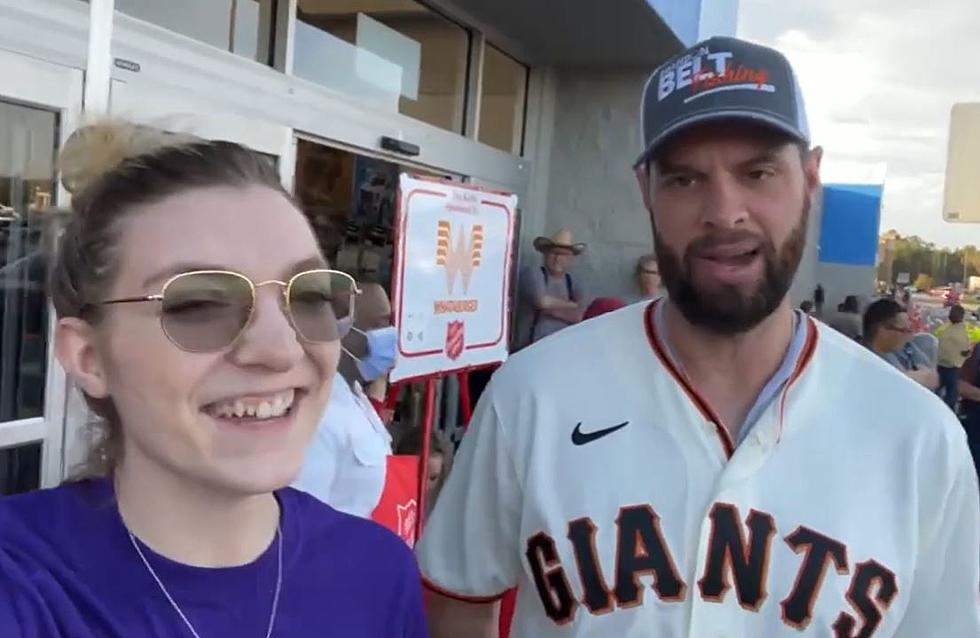 Brandon Belt Wants To Do A Scavenger Hunt In Nacogdoches, Texas
Daphinie - TSM Lufkiin
If you have been following the East Texas Scavenger Hunt page on facebook you might have recently seen a post asking about potential interest in doing another scavenger hunt. This time Brandon wants to do one in Nacogdoches.
As you can imagine the 'Oldest Town' came out in force with a resounding "Yes!". There were over 450 comments and most were positive about the idea.
There were some local Lufkinites that wanted to keep Brandon Belt's money all to themselves. They have had it pretty good lately with over $20,000 given away, so it's understandable.
Still No New East Texas Scavenger Hunt 
This post was put up on Monday and if you are following the trends I believe another hunt is imminent. I think something will happen over the New Years' holiday.
Just because Brandon has mentioned interest in doing a hunt in Nacogdoches doesn't mean that there will be a hunt there. He might even do a hunt in Lufkin and Nacogdoches at the same time.
The possibilities are endless at this point. Just know that whatever time and place you think the scavenger hunt will happen is likely wrong.
Will It Be Another $10,000 from Brandon Belt? 
The hunts lately have been $500 and it's still motivating people to go out and look. If he can get the same participation for less than a $10,000 prize, then why not. 
We can only go by what has happened in the past to make that determination. Here are some stories about past hunts that could help you.
Read More: What Is Brandon Belts Favorite Christmas Movie?
Read More: Did Brandon Belt Catch You Sleeping On This Scavenger Hunt?
Read More: Find Brandon Belt And Win Some Money In Time For Christmas
Read More: $10,000 East Texas Scavenger Hunt Could Be Called Off In Lufkin
Read More: Win $10,000 - The East Texas Scavenger Hunt Is On
KICKS 105 Teacher of the Day Nominations - Fall 2021
Here are the teachers that were nominated in the KICKS 105/Whataburger Teacher of the Day promotion for the 2021 Fall semester.
Longest Bridges in the USA
Over 1,100 Acre Ranch For Sale in Winona, TX
This is one of the most beautiful ranch and farms you will ever see.