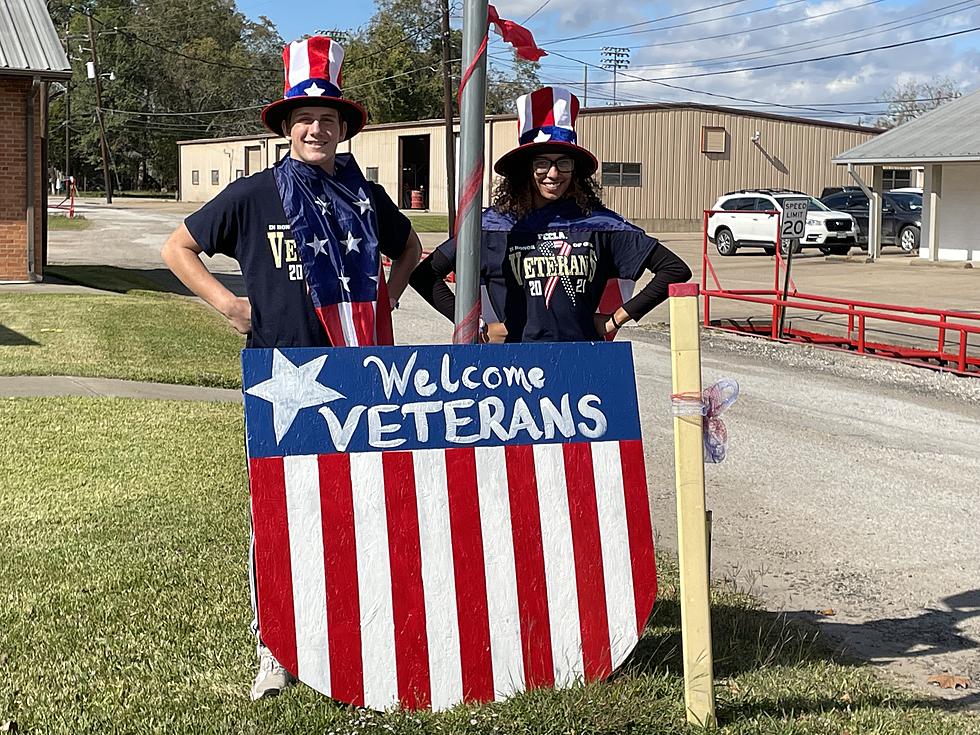 Groveton ISD Goes Beyond the Call to Honor Area Veterans
KICKS 105
It was another successful Veterans Day event hosted by Groveton ISD.  Wednesday, November 10 from 11am - 1 pm, scores upon scores of students, faculty and other volunteers worked hard to present this annual event which honors area Veterans.
The highlight of the event is the delicious BBQ and trimmings and desserts served to Veterans and their spouses.  But, there were so many things to enjoy as Veterans stopped at numerous stations that were manned by students and situated in a loop around the campus.
Some of the stations were simply used as a source for directions, while others had students offering a number of patriotic-themed giveaways such as car flags, pinwheels, and bags.  One of my favorite parts of this event is the arts and crafts giveaway.  Leading up to this event, Groveton students paint, build and fabricate a number of items that are given free of charge to Veterans who come to this event.  They even made a KICKS 105 themed piece this year which I loved!  (you can see it in the gallery below)
The final station of the drive thru is the serving of the BBQ plates. The brisket, the ribs, the trimmings, the desserts...it was all top notch. I want to say a special thanks to Jim Dillard and Maria Plotts for the invitation to come back again this year.  Of course, a huge thank you to all the Groveton FCCLA and other representatives from Groveton who did so much to honor the Veterans again this year.  Oh, and I must thank Johnny who was my right hand man at the event.  He was also the official spokesman and did a great job of joining me on the radio broadcast.
We'll see you next year!
Groveton ISD Veterans 2021