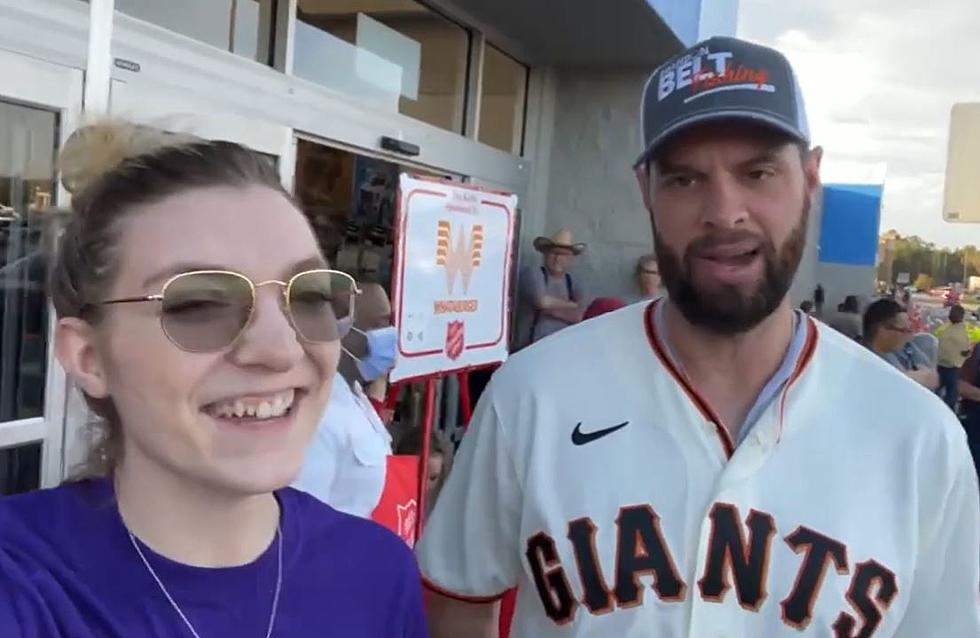 What Is Brandon Belts Favorite Christmas Movie?
Daphinie - TSM Lufkiin
We found our favorite local Lufkin, Texas Major League Baseball star, Brandon Belt yesterday. He was at the Lufkin Walmart performing bell-ringing duties to raise money for the red kettle campaign with the Salvation Army of Lufkin.
Daphinie had the forethought to ask him what his favorite Christmas movie was. You can check the video below for the answer.
We also asked him a bonus question off-camera and found out his favorite candy for every holiday is Reese's peanut butter cups. This will be good to know if he finds another $10,000 he would like to give away.
Brandon Belt Gives Away Money In Lufkin, Texas
If you have been playing along at home, this Christmas season Brandon Belt has given away over $20,000 in the past few weeks. He has really boosted the Christmas spirit here in Deep East Texas.
He did a $10,000 giveaway earlier this month and his social media followers found the card on the back of the Lufkin city limits sign on Highway 69 on the way to Huntington, Texas.
That one was found on December 7th, 2021 and it all happened a bit too fast for his liking. Then Brandon did it again, another $10,000 scavenger hunt.
The Second $10,000 Baseball Card Was Found In Lufkin, Texas 
Brandon said that the second $10,000 scavenger hunt would be harder. Clues started going out and things started to get strange.
I saw people walking up and down the road all over town trying to find the card. The clues all pointed to the Capital One bank building on South First Street in Lufkin.
He almost had to call the entire thing off when local businesses started to complain about some minor (hopefully) property damage. Luckily that didn't happen, but it might have led him to do this to make up for it.
The Third Giveaway in Lufkin, Texas Was To Help The Salvation Army
After that card was found, he still wasn't done and doubled down on the hype he had created by helping out the Salvation Army of Lufkin. He was at the Lufkin Walmart from 3:30 pm to 5:30 pm on Wednesday, December 15th.
He had VISA gift cards to give away valued at $100 to $500 dollars. Plus he matched everything that was going in the kettle.
That was when Daphinie seized the opportunity to meet the ball player and got us some answers to some questions that might one day be clues.
Holiday Light Displays Across East Texas - 2021
We have received quite a few entries in our Light Up East Texas contest.
This Jaw Dropping Home In Alto, Texas Will Have You Sold On Country Living
This home can only be described as rustic charm supersized. You won't believe your eyes, and the owners say the pictures don't even do it justice.
The 5 Most Confusing Intersections In Lufkin
Most of these large intersections in Lufkin don't even have stoplights. They will test your courage and all of your driving knowledge.