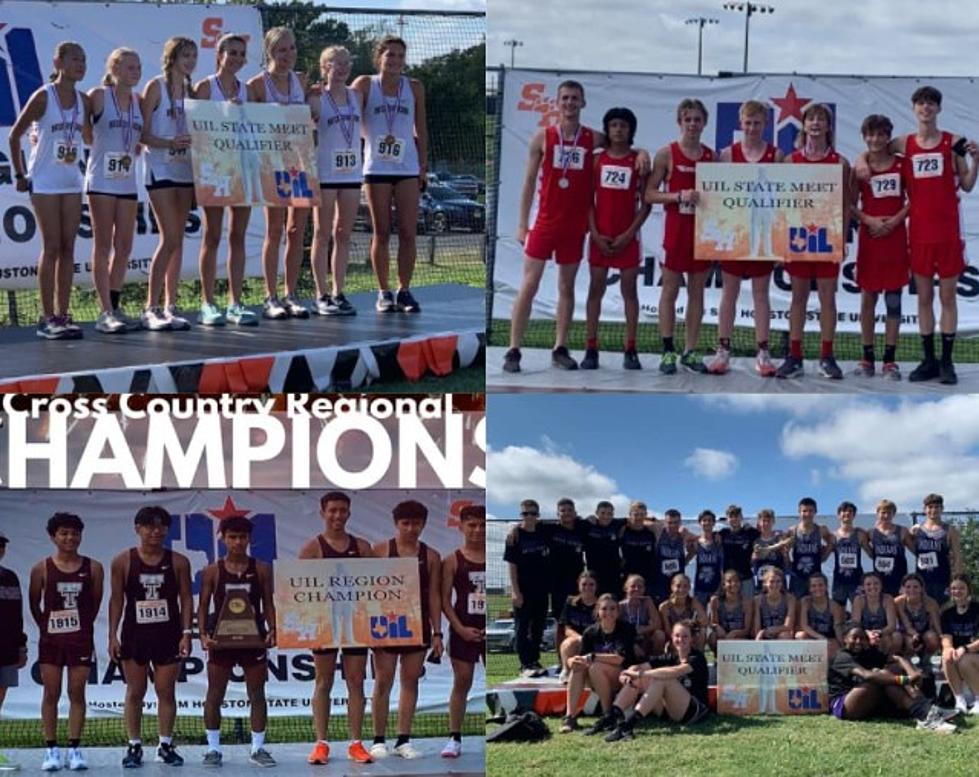 Here are The East Texas Runners Going to State for Cross Country
Contributed Photos
Over 55 high school athletes from the Deep East Texas area will be heading to central Texas this weekend to compete in the UIL State Cross Country Championships.  On Friday, boys and girls from the 1A, 3A and 5A classifications will compete, then on Saturday morning, state qualifiers from the 2A, 4A and 6a divisions will take to the course.
The state meet, as has been the case for many years, will take place at Old Settlers Park in Round Rock.  The weather should be perfect with plenty of sunshine and race time temperatures ranging from the 40s to 60s.
Here's a look at state qualifiers from the Pineywoods.  The number in parenthesis indicates the athlete's grade level.
CLASS 1A
Girls
Marisa Olivares (12) - Goodrich
Gracee Floyd (12) - Zavalla
Boys
Brett Rushing (12) - Chireno
A'mareion Bookman (10) - Goodrich
Eliseo Garzon (9) - Goodrich
Bishop Bailey (12) – Wells
CLASS 2A
Girls
Addison Murphy (9) - Brookeland
Leighah Deckard (10) - Cushing
Isabella Ball (9) – Douglass
Georgiana Burns (9) - Douglass
Madyson Freeman (12) – Douglass
Maddison Johnson (9) – Douglass
Tessa Reeves (9) – Douglass
Abigail Richardson (11) – Douglass
Addie Rose Sinz (11) – Douglass
Isavel Bautista (11) - Groveton
DeDe Davis (11) - Mount Enterprise
Charlisa Teagle (12) - San Augustine
Emily Pharris (10) - Shelbyville
Boys
Jose Garcia (12) - Cushing
Drake Freeman (10) – Douglass
Dillon Johnson (10) – Douglass
Wrangler Johnson (11) – Douglass
Luke Jones (10) – Douglass
Noah Jones (10) – Douglass
Kolton Karns (9) – Douglass
Lane Schroeder (12) – Douglass
Caden Alexander (12) – Groveton
Armando Bautista (9) - Groveton
Jarrett Loftin (10) – Groveton
Kade Rosser (11) – Groveton
Jack Sullivan (9) – Groveton
Brody Thornton (10) – Groveton
Austin Williams (9) – Groveton
Jhonjayro Sequeda (12) – Martinsville
Kenneth Wendell (10) – Slocum
Jose Medina (11) – Spurger
Jario Hernandez (9) - Tenaha
Misael Hernandez (10) – Tenaha
Daniel Loredo (11) – Tenaha
Alan Mosqueda (12) – Tenaha
Evan Plata (11) – Tenaha
Alex Rojas (9) – Tenaha
CLASS 3A 
Girls
Paige Layton (11) - Central Heights
Boys
Omar Garcia (12) – Crockett
Juan Silva (12) – Diboll
CLASS 4A
Girls
Yulianna Garcia (10) - Center
Julian Bledsoe (9) - Hudson
Jenna Ivey (9) - Hudson
Kasie Lopez (10) – Hudson
Cullen Merrell (11) – Hudson
Addison Ponder (9) – Hudson
Madison Vasquez (9) – Hudson
Kayleigh Wagnon (12) – Hudson
CLASS 5A
Boys
Reynold Guadarrama (9) – Lufkin
Kristopher Murphy (11) - Lufkin
Cross Country 2021 State Qualifiers