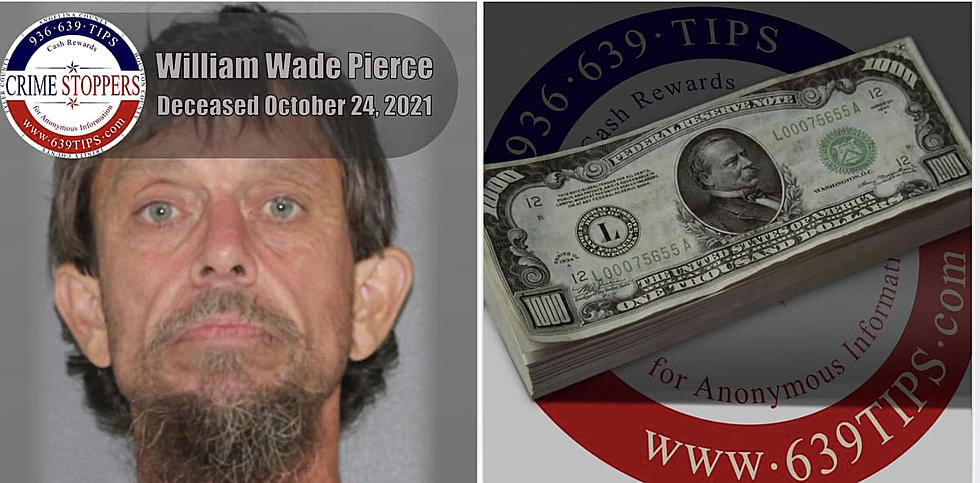 Help Solve Murder Of Man Killed In Huntington, Texas
Crime Stoppers 639-TIPS
Authorities need your help to solve the murder of a man that was found off the road outside Huntington.
According to Crime Stoppers, William Wade Pierce, 48 of Huntington, was found deceased at 5:30 pm on October 24. Deputies say he was found lying off the roadside on Gillian Creek Road.
Police were responding to a report of a person lying near the road in the area. Gillian Creek Road is outside Huntington near Sam Rayburn Reservoir.
Homicide 
Based on the investigation by the Angelina County Sheriff's Office and an autopsy, deputies believe the death of Mr. Pierce is a homicide.
The Angelina County Sheriff's office need help to find the person who killed William Wade Pierce. Anyone with information that can help investigators is asked to call Crime Stoppers at (936) 639-TIPS.
They give out cash rewards for anonymous crime-solving information.
Crime Stoppers 
If you can provide information regarding the death of William Wade Pierce submit a tip anonymously by CLICKING HERE. Only tips and calls sent directly to Crime Stoppers are reward eligible and anonymous
Crime Stoppers also has an app that you can use to make tips, all while remaining anonymous. The multi-lingual P3 tips app is a secure, anonymous, and efficient way to safely communicate with Crime Stoppers.
The tips app also allows tipsters to give additional information, check the status of an investigation, or learn if a reward has been authorized. All of it goes through an encrypted interface that protects the tipster's identity.
You can also just pick up the phone and call (936) 639-TIPS.
Downtown Lufkin Storm Damage
An unconfirmed tornado briefly ran though downtown Lufkin on Wednesday, October 27th, 2021. It knocked out power to Lufkin City Hall and many businesses in the area were affected.
Gorgeous Retreat On Lake Nacogdoches
A stunning custom pool and every amenity awaits inside and out.
Batmobile Coming To Jokers Dugout
These are pictures of the actual batmobile featured at the Halloween Bash at Jokers Dugout in Lufkin Mall on October 30th, 2021.
See Inside This Lufkin, Texas Dream Ranch
Want privacy within the city limits of Lufkin? This could be more than you could ever need.