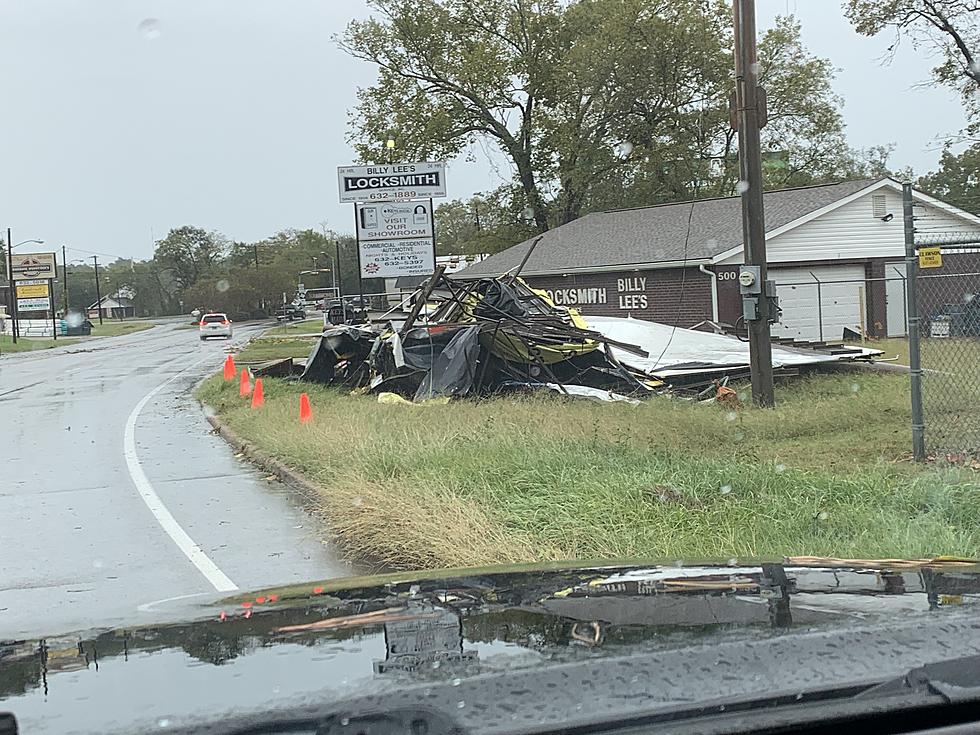 Did A Tornado Hit Downtown Lufkin? View The Damage For Yourself
Dan Patrick - TSM Lufkin
Severe weather threatened all of East Texas today. A huge Tornado was spotted crossing near Interstate 10 and Highway 62.
This tornado was headed for Deweyville, Texas then lifted right before it got there. That was about the only good news to come from this destructive line of storms.
There was no actual tornado sighting in Lufkin, but the damage might tell another story. There was a lot of damage above and beyond what a normal thunderstorm should do.
Damage Downtown
In Deep East Texas limbs down during a storm is a normal occurrence. We usually just take pictures of them after a bad storm with the title "We Will Rebuild".
Sarcasm is usually how we deal with the weather in our area. This time it went a little further than just a quick game of pick-up sticks in the lawn.
I saw one complete tree uprooted at Lufkin City Hall and at least two others were snapped in half making them a complete loss.
Billy Lee's Locksmith
There was a billboard on Frank Street in Lufkin next to Billy Lee's Locksmith. It ended up across all lanes of Frank Street during the storm.
Though there were a few large limbs down in their parking lot, unless they owned that sign they didn't suffer much damage. Power downtown is still out now for some of the businesses.
Looking at the pictures in the gallery below you start to notice a pattern of damage consistent with a small tornado. There were reports of a small funnel passing through the area. I am sure the National Weather Service will come through the area eventually and make a ruling.
Downtown Lufkin Storm Damage
An unconfirmed tornado briefly ran though downtown Lufkin on Wednesday, October 27th, 2021. It knocked out power to Lufkin City Hall and many businesses in the area were affected.
Gorgeous Retreat On Lake Nacogdoches
A stunning custom pool and every amenity awaits inside and out.
Batmobile Coming To Jokers Dugout
These are pictures of the actual batmobile featured at the Halloween Bash at Jokers Dugout in Lufkin Mall on October 30th, 2021.
See Inside This Lufkin, Texas Dream Ranch
Want privacy within the city limits of Lufkin? This could be more than you could ever need.