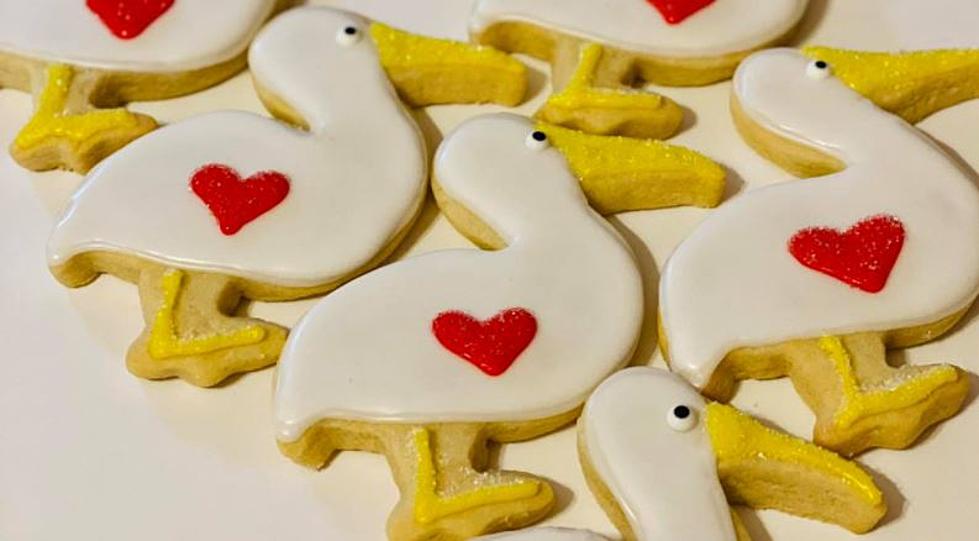 This Lufkin, Texas Bakery Is Selling The Cutest Pelican Cookies For A Great Cause
Confections Lufkin
We all know that our neighbors to the east in Louisiana had a pretty hard hit from hurricane Ida. When a major storm happens here they always helps us before anyone else.
Confections, a local Lufkin bakery, is returning the favor by selling these pelicans with a heart cookies. Louisiana's official nickname is "The Pelican State" and the brown pelican is the state bird.
A pelican is the perfect subject for the cookie. They can be found on the Louisiana state flag, state seal, and more. When the World Exposition was in Louisiana in 1984 a pelican named Seymore was the mascot.
Kindness Rocks
They are selling the cookies, but 100% of the profits are going to hurricane relief efforts in Louisiana. They are making a donation to Second Harvest Food Bank.
The organization provides four meals for every dollar donated. If you want to support the cause, but aren't close enough to enjoy the cookies, don't worry I have a link for you.
Confections is located at 117 W. Shepherd Ave. in downtown Lufkin. They are open Tuesday - Friday 10am - 5pm and Saturday from 11am - 2pm if you want to get your pelican cookies in person.
Dawn and her sister Miranda own the bakery and they have a knack for making  cookies that make a difference. "We love our Community and the sweet support our small business has received. We wouldn't be here without our village." - Dawn
I have been following these very creative business owners and featuring them on the show and on our station's website for years. Take a look at some of their past adventures.
Confections In Lufkin Receives Backlash For Rainbow Cookie
Have You Seen These Hilarious Covid Cookies?
How East Texas Knows It's Fall Ya'll
These Cookies Sum Up How All Texas Feels
7.9 Million Lufkin Estate Is An In Town Dream Ranch
This home is a ranchers dream, complete with zebra and deer.
Sun-N-Pines And Fiesta Mexicana Closing in Lufkin, Texas
These two different business at the same location in Lufkin, Texas are closing.
ArtFest 2019 In Pictures
Pictures from ArtFest 2019. It took place in Downtown Nacogdoches.