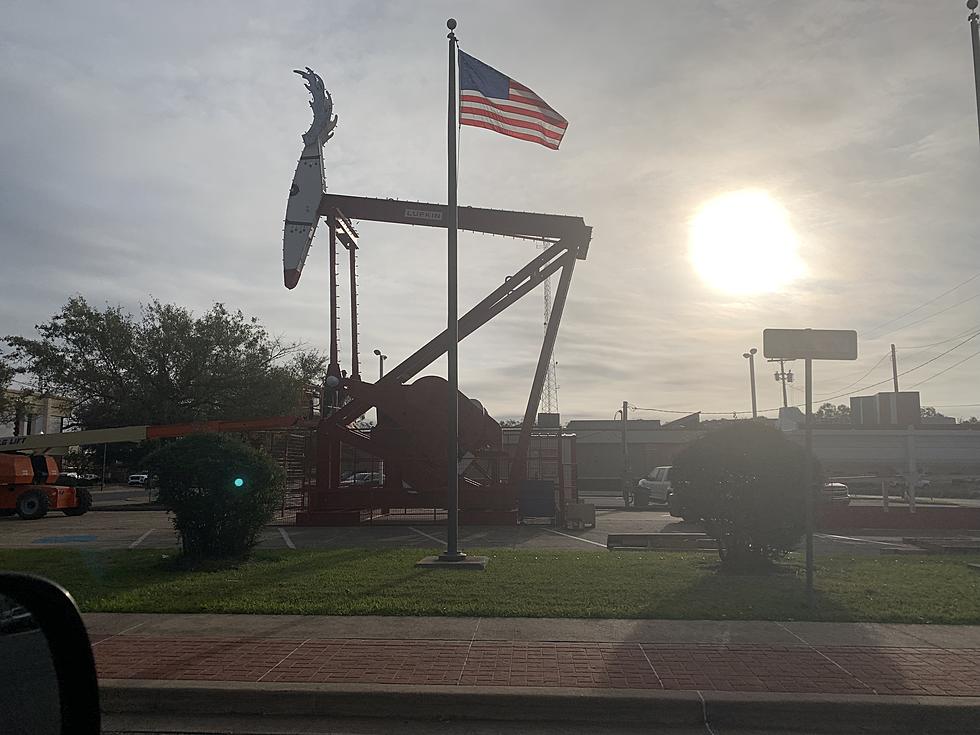 Rudolph The Red Nose Pumping Unit Gets It's Lights In Lufkin [Photo Gallery]
Dan Patrick - TSM Lufkin
The entire City of Lufkin knows that Christmas time is here once Rudolph The Red Nose Pumping Unit is erected in his current location downtown.
Rudolph won't be lit for the public to see until Christmas In The Pines in Downtown Lufkin. This is the 3rd Annual Christmas In The Pines and will be held on Saturday, December 4th, 2021 in downtown Lufkin.
This is a big event for downtown Lufkin and it starts with vendors and Christmas Shopping at 2 pm. The ceremony to light up Rudolph starts at 6 pm. Kids can take pictures with Santa before the lighting ceremony.
Location
Rudolph was on the loop in the Lufkin Mall Parking lot for many years.  It resided at multiple locations before that.
Rudolph The Red Nose Pumping Unit has now been at the Municipal Court House in Lufkin since 2019. With all of the festivities going on downtown, it has started to fit right in.
Rudolph is officially owned by the City Of Lufkin these days. Before it was owned by Lufkin Industries, GE, or Baker Hughes.
There was a time when the fate of Rudolph was uncertain. With Lufkin Industries gone, 50 years of tradition hung in the balance. Luckily back then someone petitioned on our behalf to keep Rudolph, and he stayed.
Most Unusual Christmas Decoration
Not many Christmas decorations arrive on a semi. Rudolph is not the only part of this Christmas display.
There is also a 38-foot dump trailer decorated to resemble Santa's sleigh. It's full of gifts and brings the scene home.
Rudolph The Red Nose Pumping Unit Gets Lights
Workers have erected Rudolph The Red Nose Pumping Unit in downtown Lufkin. Now they are putting on the lights.
Skyline Burrito Bowl Gets 2nd Location
Tavo Velazquez and his crew have started building a new restaurant out of an old car wash.
Downtown Lufkin Storm Damage
An unconfirmed tornado briefly ran though downtown Lufkin on Wednesday, October 27th, 2021. It knocked out power to Lufkin City Hall and many businesses in the area were affected.
8 Reasons To Work For The Lufkin Fire Department
There are so many benefits to being a hero in your community.
See Inside This Lufkin, Texas Dream Ranch
Want privacy within the city limits of Lufkin? This could be more than you could ever need.