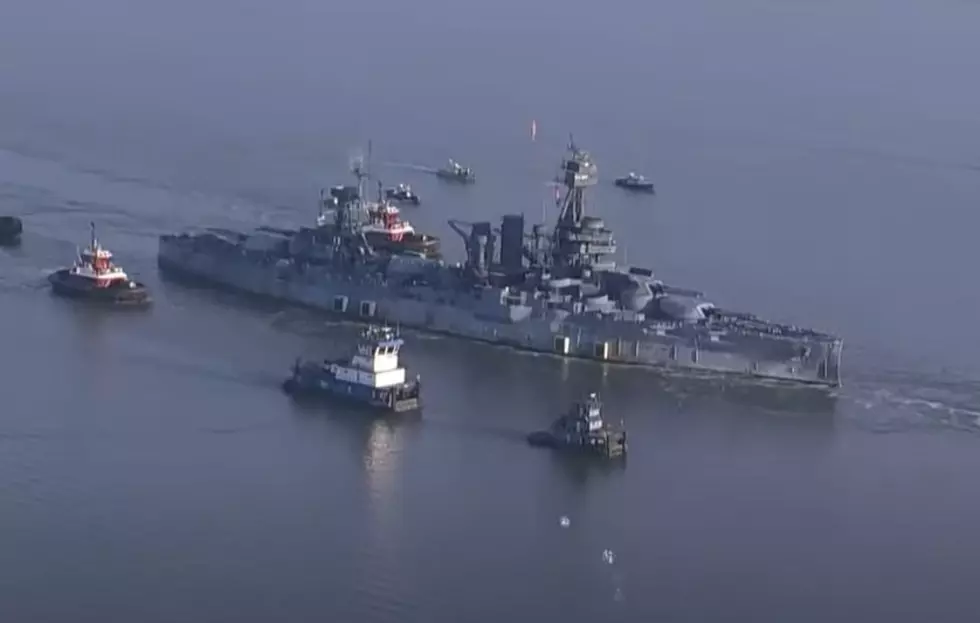 WATCH: Live Video of the Battleship Texas Going to Galveston
Screenshot KHOU 11 via YouTube
A very historic event is taking place today in southeast Texas.
The Battleship Texas is on the move. This is the last remaining battleship that served both in World War I and World War II, and as of this writing, it's making its way down the Houston Ship Channel. The ship is being towed to Galveston to undergo some $35 million in repairs.
You can follow along with that voyage with live video coverage. (Sometimes the stream is turned off, and recorded video of the journey is shown)
Through the years, numerous tourists have made their way to the San Jacinto Battle Monument and Museum which has been the home of the Battleship Texas. The construction of the Texas began in 1910 and the warship went into action in 1914.
Here is the estimated schedule as posted by BattleshipTexas.Org
6 to 7:30 AM: Battleship Texas gets underway and enters the Houston Ship Channel
11 AM to 12 PM: Battleship Texas will cross under the Fred Hartman Bridge and enter the bay – Do not attempt to watch from the Fred Hartman Bridge, it is illegal and extremely unsafe to park on the bridge.
2 to 3 PM: Battleship Texas will pass near the Texas City Dike – the end of the Texas City Dike will have an excellent view at this time.
3 to 4 PM: Battleship Texas will enter the Galveston Ship Channel – The ship will be visible from Galveston Naval Museum and Seawolf Park at this time and will get a good view of the ship turning into the Galveston Ship Channel.
4 to 5 PM: Battleship Texas will arrive at Gulf Copper Galveston – This will be visible from the Pier 21 area in Galveston. The ship will wait at Gulf Copper while the riding crew prepares for dry docking and waits for the appropriate tidal window.
Late August 31st to Early Morning September 1st: Battleship Texas will be maneuvered onto the dry dock and lifted out of the water.
The repairs to the hull of the Battleship Texas are expected to take a little over a year.  Once repairs are completed, a new home for the historic ship will be revealed.
LOOK: This is the Biggest House in Texas over 29,000 sq. ft. living space on over 15 acres
When the largest home in Texas, "Chateau Montclair" was owned by Neon Deion Sanders it had 114 acres. After the auction, it only has 16 acres now, and 10 of those is a private lake.