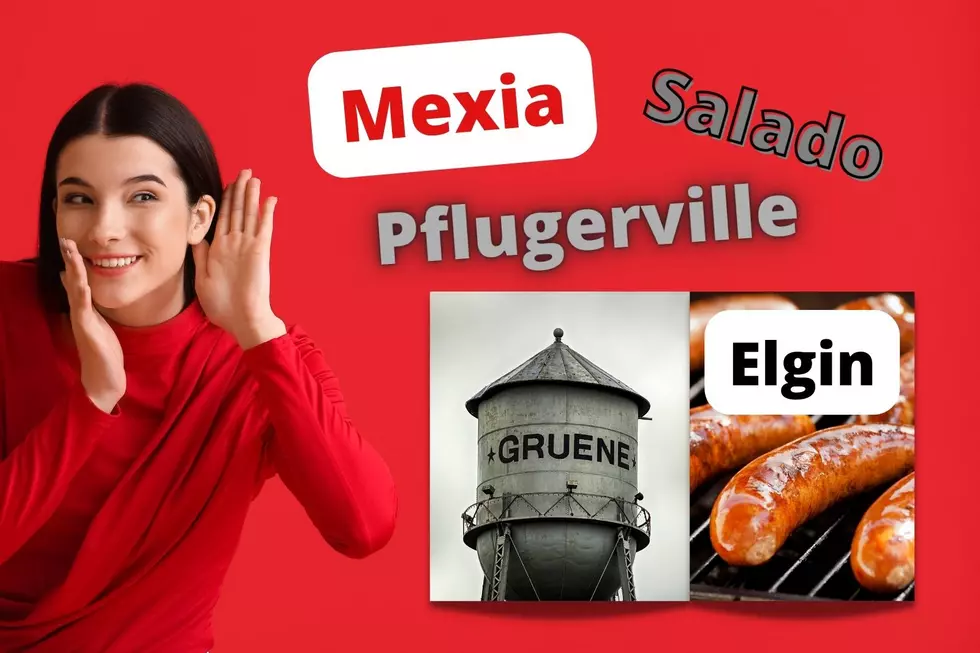 Say What? See if You're Pronouncing These Texas Names Correctly
Canva
Even if you were born and raised in Texas, you can still make a mistake when saying the names of places throughout the state.
However, there are some places that get mispronounced more than others. According to KXAN, here are a few of the areas in the Lone Star State that people have the biggest problems saying correctly.
It Rhymes With Sass
Bastrop, Texas is about 30 miles southeast of Austin, and has been the filming location of several movies including the original Texas Chain Saw Massacre. The city was named for Baron de Bastrop. According to the Texas State Historical Association, when Texas became a republic, the area became one of the twenty-three original counties in the state. Pronunciation: 'Bass-trop' (Bass like the fish, not the musical instrument).
Boerne
Texashillcountry.com states that the town's name honored German publicist and author, Karl Ludwig Borne, who was credited by many settlers for inspiring them to leave Germany for the New World. Boerne was formally founded as Tusculum in 1849, but it was later renamed in 1852. Pronunciation: 'Burn-ee' (rhymes with gurney).
Elgin
Elgin is also known as the Sausage Capital of Texas. According to elgintexas.gov, the city was created by the Houston and Texas Central Railroad on August 18, 1872, and named for Robert Morriss Elgin, the railroad's land commissioner. Pronunciation: It's pronounced 'El-ghin' (not gin, as in the drink).
Gruene
Gruene is located just outside of New Braunfels, and is home to the oldest continually operating dance hall in Texas, with live music every day. Built in 1878, Gruene Hall has been featured in several films and books. Pronunciation: Central Texans say Gruene as 'Green' (like the color).
Mexia
This one is a regular source of confusion. The motto of Mexia is: "A great place, no matter how you pronounce it." 40 miles east of Waco, the town was named after General José Antonio Mexía, a Hispanic hero for the Republic of Texas Army during the Texas Revolution. Pronunciation: 'Muh-HAY-uh' (rhymes with Princess Leia).
Pflugerville
Pflugerville was named in honor of a German settler by the name of Henry Pfluger. The town was founded in 1860 and started out as a post office and a general store. There is even a regular 'Pfarmers' Market. Pronunciation: 'Flu-gur-ville' (You guessed it - the 'P' is silent).
Salado
The City of Salado in southern Bell County was first incorporated in 1867 for the sole purpose of building a bridge across Salado Creek, which became the first designated Texas natural landmark in 1966. Pronunciation:  'Suh-LAY-doe' (Rhymes with Play-Doh. There is no salad in this city's name).
Top 25 Delicious Foods & Drinks That Define The Great State of Texas!
There's more to Texas than just Dallas Cowboys and oil in fact, Texas has helped shape the taste of America. From BBQ, to Tex Mex to Ice Cream and beyond, Texas has introduced the rest of the U.S. to the Texas way of life through food. So what foods and drink make Texas so special? Let's take a look.
Bet You Didn't Know: 10 Bizarre Texas Laws Still on the Books
Many states still have strange laws on the books that aren't enforced or taken seriously anymore, and Texas is no exception.
Most of these laws are just funny now, but at one time, there was a valid (or at least somewhat valid) reason for them to exist.
Let's take a look at 10 of the weirdest ones in the Lone Star State.