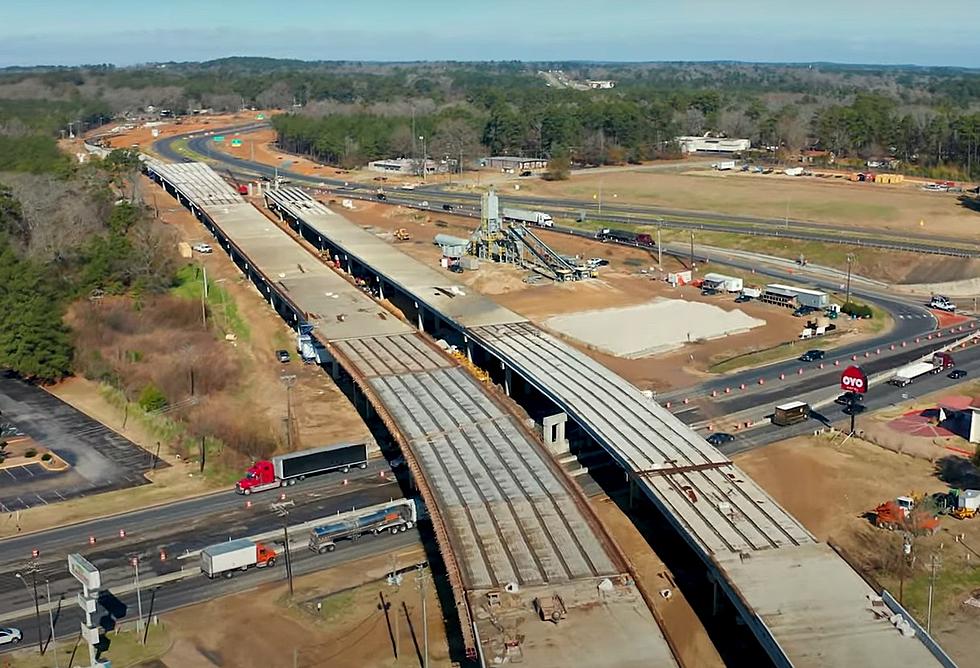 New Detour Starts Wednesday Night for Nacogdoches Road Work Area
Screen Grab/Jason Reina YouTube
Spring 2023.
That's the date for the anticipated completion of the Highway 59 flyover construction project on the south side of Nacogdoches.  Sure, that's still a little north of over a year away.  But, the visual progress over the past several months has been impressive. The segments of construction that were first undertaken during the first months and years of the project gave us no indication of how the final product would come together.  Now, however, we can visually see how all the work is tieing into each other.
We are moving into the Spring of 2022.  That means we still have another 12-15 months of construction, detours, delays, and closures.  But, at least the light at the end of the overpass is getting brighter and brighter.
With that said, the Texas Department of Transportation is alerting motorists of some upcoming detours. Wednesday night (3/9), work crews are scheduled to begin pouring bridge deck over the southbound lanes of Highway 59 at Loop 224 in Nacogdoches. Southbound traffic will be detoured to northbound lanes beginning at 7 pm.
Work in this area will resume Thursday night, (3/10) over northbound lanes. Traffic will be detoured into southbound lanes, this will once again begin around 7 pm. Traffic will be monitored throughout the work. Motorists should stay alert and obey all traffic control.
Keep in mind that police enforcement of the reduced speed limit in the construction zone has been ramped up over the past two weeks.  The 45 mph and 60 mph speed limits are being much more strictly enforced.
Below is a bird's-eye view of the construction project as of late January.
Awesome Nacogdoches County Home Listed for $1.5 Million
This home in northern Nacogdoches County was listed to the public on March 2, 2022. The 4,000 square feet home sits on nearly 40 acres.
Beautiful Central Heights Home Listed for $1.15 Million
Take a look at this beautiful home and property located in Nacogdoches County