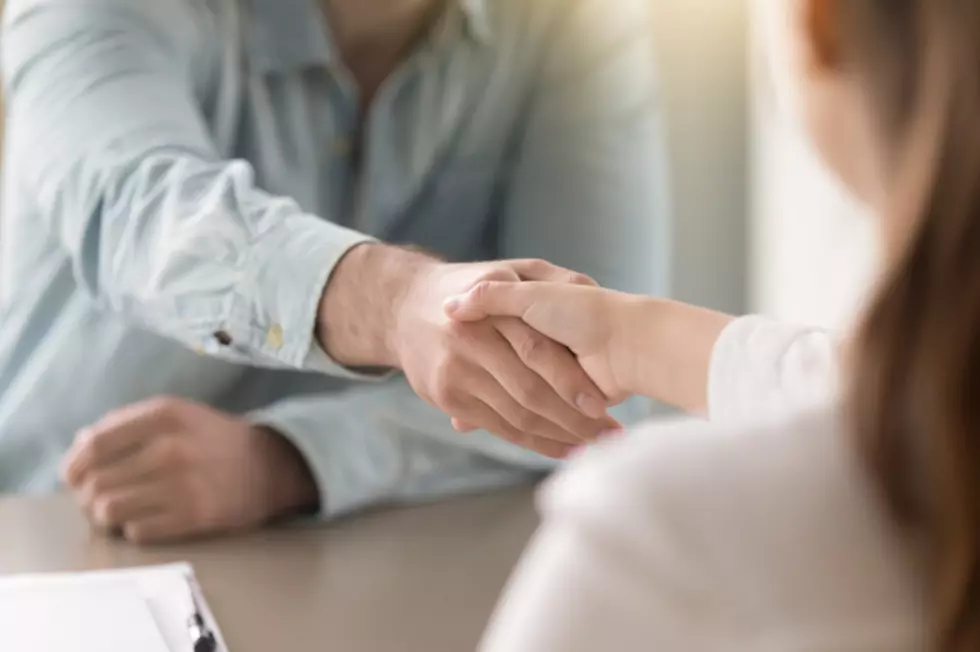 Job Seekers Should Attend Mega Job Fest This Thursday in Lufkin
fizkes
Now hiring.
From healthcare to retail, from education to hospitality, and many professions beyond those categories, businesses across Deep East Texas are hiring, and we're talking about some of the driving forces of the Pineywoods business community.
But, that can be an issue. There are so many places hiring in Deep East Texas, that it can leave you dizzy trying to identify and organize the businesses in which you have an interest. Thankfully, on Thursday, April 28, Workforce Solutions Deep East Texas is partnering with the Lufkin/Angelina County Chamber of Commerce to host a 'Mega-Job Fest' which is designed to connect job seekers with employers in healthcare, manufacturing, technology, and transportation industries and more.
This fair will be happening from 10 a.m. to 2 p.m at the Pitser Garrison Civic Center located at 601 N. 2nd Street in Lufkin. All job seekers are welcome to attend the event and are encouraged to bring copies of their resume and dress appropriately for an interview.
Here is a list of businesses that should be represented at the fest:
A Piney Woods Home Services
A.T. Staffing
A's Body Treats
Abundant Life UMC Navigator Program
AC Respiratory Care
Academy
AccentCare
AES- Texas Health & Human Services
Angelina College
Angelina College (Health)
Angelina County Sheriff - Jail Division
Baker Hughes
Brown Family Health Center, Inc.
Burke
Change Happens
City of Lufkin
Community Improvement Program
Copeland Insurance Group
Corrigan OSB, LLC/RoyOMartin
Creative Solutions in Health Care
Crown Colony Country Club
Deep East Texas Council of Gov.
East Texas Community Health
Elara Caring
Encadria Staffing Solutions
Endura Products, Inc.
Etech
Express Employment Professionals
Foretravel, Inc
Georgia Pacific
Goodwill Central East Texas
Heavy Equipment Colleges of Amer.
Innovative Homes of Deep East TX
LaTrelle's Management Services
Legacy Institute
Lockheed Martin
Lufkin Ford
Lufkin State Supported Living Center
Maxine's Compro Tax & Insurance
Missouri City Police Department
Mustang CAT
Onshore Outsourcing
Pilgrim's
Pinecrest Retirement Community
Promark Research
Provalus
SBDC Angelina
SBDC Angelina College
SFA ROTC
Southern Multifoods Inc.
Southside Bank
Spherion Staffing and Recruiting
Splash Kingdom
Sr. Master Olford's ATA Black Belt
St. Luke's Health Memorial
Stephen F. Austin State University
TDCJ- Manufacture, Agribus,Logistics
Texas Department of Criminal Justice
Texas Department of Family & Protect
Texas Department of Transportation
Texas Parks and Wildlife
TFP Nutrition
Tyler County School of Nursing
Tyson Foods
US Army
US Marines
US Navy
Vector Marketing
Windham School District
More details about the Mega-Job Fest are available here or by calling 936-639-1351.
To help people find jobs, keep jobs or get better jobs, the staff at Workforce Solutions Deep East Texas offers job search and job matching assistance, career counseling and in some cases, financial aid for education/training or work support. They also can help with career planning, building a resume, preparing for interviews, job readiness, earning a GED, and gaining occupational skills. If a family meets eligibility requirements, Workforce Solutions may be able to help with financial assistance for child care.
Additionally, the team helps employers find qualified applicants for specific jobs and develop custom solutions to strengthen their current workforce.
For more information, visit www.detwork.org.
Dr. George Fidone's Artwork
Dr. George Fidone is a very popular pediatrician in East Texas. Recently, he discovered he also has quite a talent for painting. Here are some of his wonderful paintings.