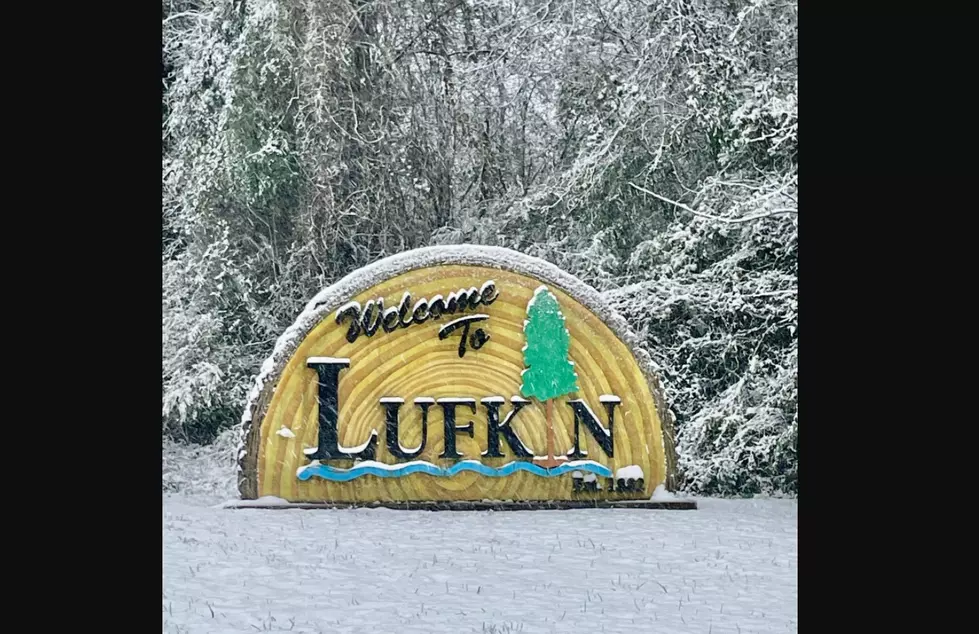 Snow in Forecast for Beaumont and San Antonio, What About Lufkin?
KICKS 105
When was the last time the Lufkin/Nacogdoches area had a white Christmas?  I mean a REAL white Christmas, with enough snow on the ground to make a legitimate snowball.  I moved to East Texas in 1990 and I haven't seen one yet and in doing some quick research, I don't see evidence of a Christmas snow blanketing the Pineywoods anytime in the past half-century, maybe a lot longer than that.
This is why I was so miffed at the weather on Christmas Day 2004.  Guess who got a white Christmas that day with 4-6 inches of snow.   GALVESTON!  Yes, Galveston, you know, the city where shorts and suntans are the norms for the holidays.
How much snow did we get?  Nada. Zilch. Diddly Squat. None of those are meteorological terms but they should be when envy is involved.
I bring up this weather blast from the past because every once in a while Mother Nature flips the script on Texas weather, such as bringing a wintry mix to the coastal bend, but no such offering for the counties to the north.  That's the way the forecast is shaping up for this next cold front coming to the Lone Star State.
The cold front will kick off some showers and a few thunderstorms ahead of it. Oh, by the way, some of those storms could become severe Wednesday afternoon and evening across parts of East Texas. Then, a few more areas of precipitation will develop Thursday into early Friday.  The timing will put those last showers into the Pineywoods Thursday afternoon, while it's just warm enough to keep that in the form of rain.
However, those showers will happen at night further to our south, when it's colder.  That means places such as Beaumont, Lake Charles, even San Antonio could have a wintry mix Thursday night and early Friday.  Parts of Deep East Texas could see a few flakes of snow or pellets of ice, mainly south of Lufkin and Nacogdoches.  No accumulations are really expected from any of this wintry precipitation.
The National Weather Service in Houston/Galveston is quick to point out that there is still 'low confidence' in this scenario.  No sleet or snow may fall in southeast Texas when it's all said and done.
Here's a crazy example of how wildly the weather forecast can fluctuate over a short period of time.  Two days ago, a widely-used weather model showed Deep East Texas getting over a foot of snow for the weekend of January 29.  Now, that same model is showing no snow and highs in the 50s for that same period.
Whether it's wintry weather or severe storms, make sure you've downloaded our free KICKS 105 App to have weather alerts sent to your smartphone.
Here's a look back at some of the snowy pics from last Winter in East Texas.
Snow Pics 2021