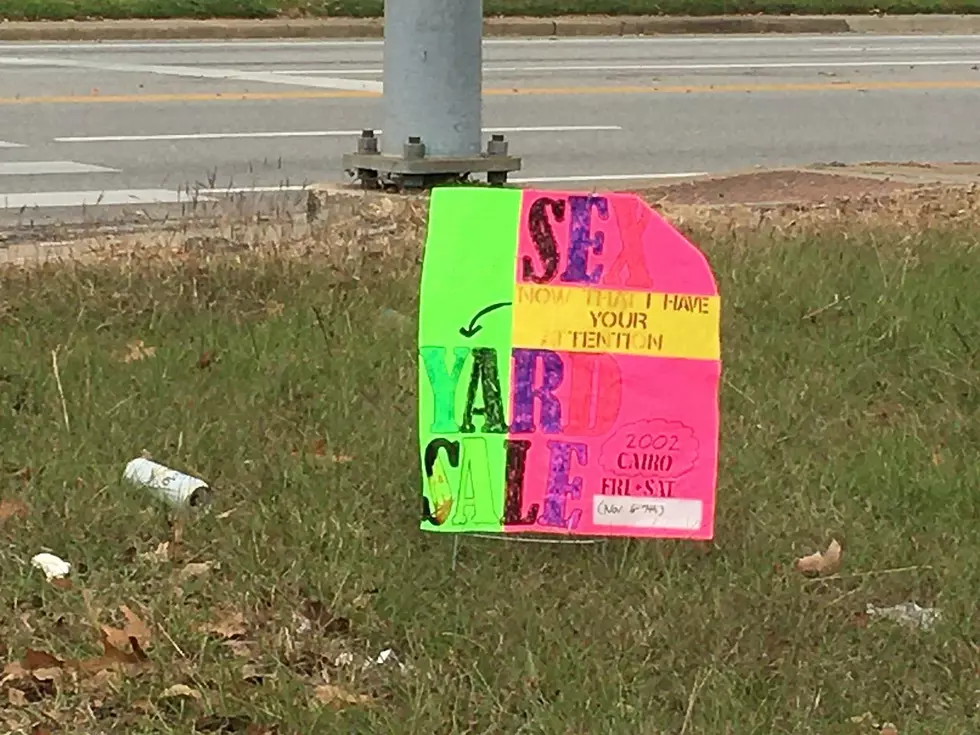 Random Lufkin Yard Sale Sign Catches Attention On Street Corner
Yard sale signs - usually - aren't very unique. There might be some bright colors or unfamiliar fonts that are used on them, but for the most part, they're all the same. However, there's one sign that was used in Lufkin for a yard sale this past weekend that is catching some attention, and not just for the highlighter colors that are used in it.
Take a look for yourself:
Just in case you can't read the message, this is what it says:
SEX

NOW THAT I HAVE YOUR ATTENTION

YARD SALE
So, they started with the random...I guess you could call it, "adult theme", to grab the attention of drivers, then gave all of the information for the yard sale.
Now, props to whoever came up with the idea. I mean, it did what it was supposed to do. It brought attention to the sign. It served it's purpose.
I personally wouldn't do this. It's not really my style. Knowing me, I probably would have just used one of the generic yard sale signs. I wouldn't have even made my own sign, just bought one and wrote the address in myself.
But, this person apparently put the sign together, stenciled the letters, and set it up by the roadside. Not bad. I didn't make it out to the yard sale myself, but I bet they had a bit more traffic than just a regular old yard sale sign.
Enter your number to get our free mobile app
CHECK THEM OUT: States With the Best and Worst Commutes