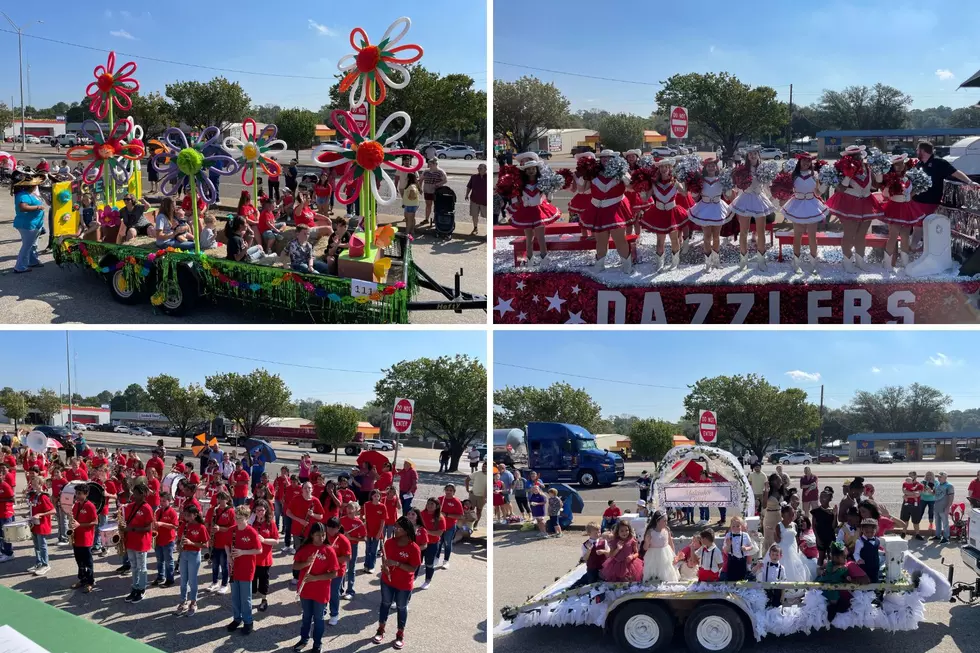 PHOTOS: It Was Hot, But We Had a Blast at the Diboll Day Parade
KICKS 105
I've been a master of ceremonies for many parades in East Texas over the past 30+ years.  I drove a station vehicle in numerous area parades as well. I even had the honor to be Grand Marshal at the Dogwood Festival Parade in Woodville over a decade ago...it actually snowed on me as I was waving at the crowd.
However, I can't remember the last time I was asked to judge a parade.
This past Saturday morning, I had the privilege to be one of the five judges at the Diboll Day parade. I had a blast. There were some 65+ entries in several categories including civic/school organizations, industrial, novelty/car, and school performing and spirit.
This was my first ever Diboll Day parade, and I think you can safely say that the threat of snow never existed. It was a very hot early fall morning, even for East Texas standards. A special thanks to the Diboll Booster Club for thinking ahead and giving us Diboll Day umbrellas to keep us judges shaded from the sun.
I would complain about the heat, but after watching some of these marching boys and girls dressed to the military hilt in band uniforms, I don't think I would get much sympathy.
We were so impressed with the parade entries, but we could only give one award to the best of every category.
Civic/School Organizations - HG Temple School, we loved the way they turned the pool noodles into flowers. We wish we could have also given an award to KST Child Care. Their entry was beyond adorable.
Industrial - Lufkin Gears, LLC, the mock-up of the gear was very clever.
Independent - The Bullpen, loved the overall design and enthusiasm.
Novelty/Car - Security Shredding, 1957 Chevy Cameo, It was very tough to choose from the beautiful vehicle entries, but something about this vehicle just stood out.
School Performing & Spirit - The band award went to the Alto High School Marching Band, they were loud, they all took part in a dance routine, and they were sharp.  A shout out also to the twirlers of West Sabine High School. Their routine required their knees to make contact with the very hot pavement, yet they all continued to smile.  The spirit team award went to the Diboll High School Dazzlers, their float decorations were top-notch
I've included a gallery of photos that I took from the judge's table. My apologies for missing a few entries.  I didn't shade my phone and it had to cool down for a few minutes.
Diboll Day Parade 2022
KICKS 105's Danny Merrell had the privilege of being one of the judges at the 2022 Diboll Day Parade. Here are some of the photos he took of the entries.