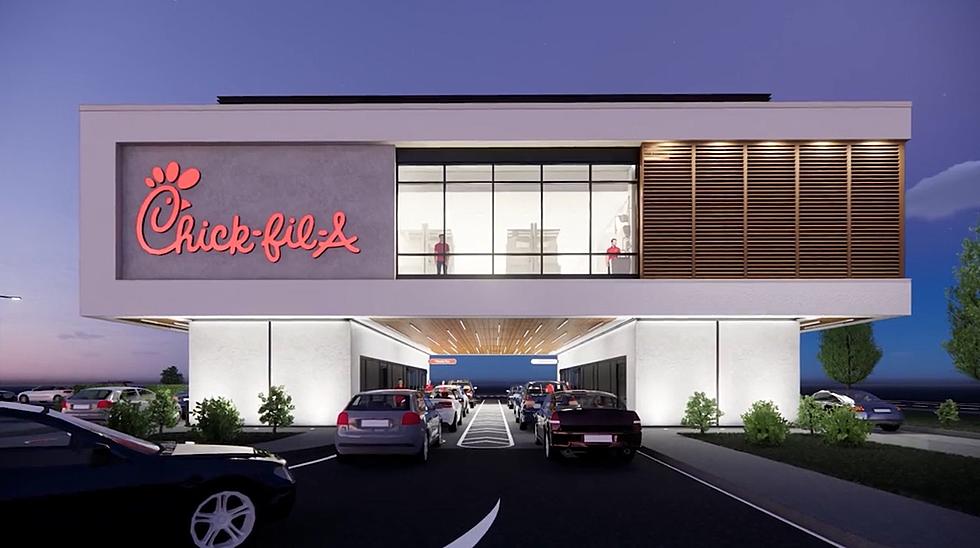 Your Next Chick-fil-A Sandwich Could Arrive Via Conveyor Belt
Chick-fil-A News via Twitter
Chick-fil-A wants to get food to you more quickly and they're willing to use a conveyor belt and a chute to get it done.
According to Yahoo Finance, the chicken giant is planning a trial run of two new restaurant concepts with hopes of cutting down on the time it takes to get food to customers.
What Potential Changes Are In Store For Chick-fil-A?
One of the designs has a kitchen over a four-lane drive thru. Customers of this concept, which will debut in Atlanta next year, can use the Chick-fil-A app to order a head or order as they typically would at the drive-thru.
Yahoo reports there will be lanes specifically dedicated to each order type that feature "chutes" that deliver food to customers via a conveyer belt.
The article states the kitchen at this restaurant is double-sized compared to a typical Chick-fil-A kitchen in hopes of keeping up with the demand from the drive thru.
Chick-fil-A Continues Testing Concepts In New York City
Yahoo explained the second concept that will be tested will be designed for urban areas with increased foot traffic.
The first walk-up store for digital orders will get a trial run in New York City sometime in 2024.
According to video shared by the restaurant on Twitter, there will be no points or sale or drink dispensing areas at the location. It will be strictly meant for picking up mobile orders.
This will be Chick-fil-A's latest attempt to gain ground in a city where it has tried a variety of ways to connect with customers.
Earlier this year, the company partners with its New York restaurant owners to open The Brake Room.
The Upper East Side location was a place specifically designed for those who work in the food delivery industry "to rest, get warm and recharge during New York City's harshest winter days."
Best Looking State Patrol Cars In (Almost) Every State
For the past 10 years, the American Association of State Troopers has held a contest to determine which state has the best looking patrol cruiser. Nearly every state police agency submits their best photo of their sharpest patrol vehicle a chance to win the coveted cover photo on the association's annual calendar. From cop cars rushing through blizzards to vehicles on the Grand Ole Opry stage, here are this year's nominees.
The Best Reviews From People Who Had The Worst Time Visiting The White House
You think people are impressed visiting the White House? Think again. Visitors who have toured the White House grounds have taken to
Yelp
to voice their displeasure about everything from the size of the building at 1600 Pennsylvania Avenue in Washington, D.C. to Secret Service being rude to them when they got lost.
LOOK: Are these the most fun cities in America?