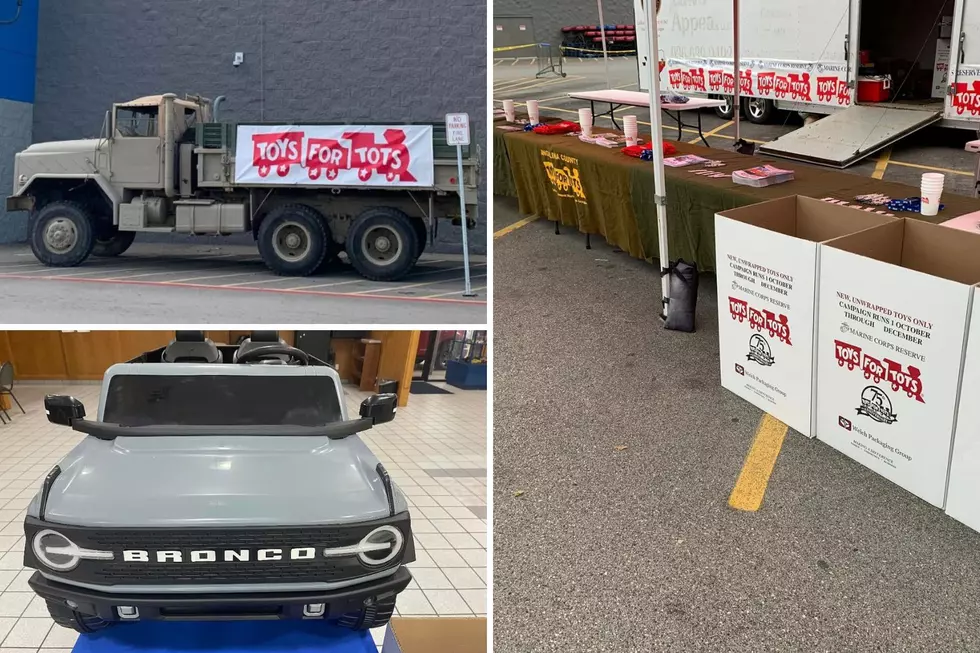 The Marines Have Landed at Lufkin's Walmart & They Need Your Help
Contributed Photos/Toys for Tots
The Marines Have Landed...
...and they need your help to help others in East Texas. Every year, Brian Crews and his wonderful volunteers from the Marine Corps Reserve canvas the area for weeks during the holidays trying to make sure that kids have a great Christmas through the Toys for Tots program.
This Christmas drive always culminates with the Marines, in essence, commandeering the parking lot at the Walmart Supercenter in Lufkin for one weekend during the holiday season.  That weekend is here.
The local detachment will be situation front and center in the Walmart parking lot through Sunday, December 11. If you don't see the large camouflage truck or cannon, you're at the wrong place
How Can You Help?
During this last push, you are asked to please bring a new, unwrapped toy to help the cause. Don't feel like shopping or you are not sure what to buy? A monetary donation is always welcome.
You don't even have to get out of your vehicle.  Just pull up, roll down your window and a Marine will be happy to retrieve your donation.
How Big is the Need?
Huge!
In 2021, over 8,900 toys were handed out to nearly 1,950 children in the Angelina County area. Thanks to the trying economy, the need is expected to grow this year.
The Angelina County Chapter of Toys for Tots supports kids in this county as well as Trinity County. All funds stay right here in Deep East Texas and do not go to any administrative/corporate overhead costs.
Want to Win a New Ford Bronco?
Well, it's actually a battery-powered Bronco for kids, but still...HOW COOL IS THIS?!
Bronco
Through December 16, make a monetary or new, unwrapped toy donation for Toys for Tots at the Lufkin Ford dealership and you'll be in the running to win this beauty.
Holly Jolly! Inside Texas's Largest Christmas Decoration Store
Decorator's Warehouse has just about EVERY Christmas holiday decoration you could possibly need and its located in the DFW Metroplex.
Colorful Flocked Christmas Trees
Timberland Nursery in Lufkin is bringing all of the colors of the rainbow out to celebrate Christmas.