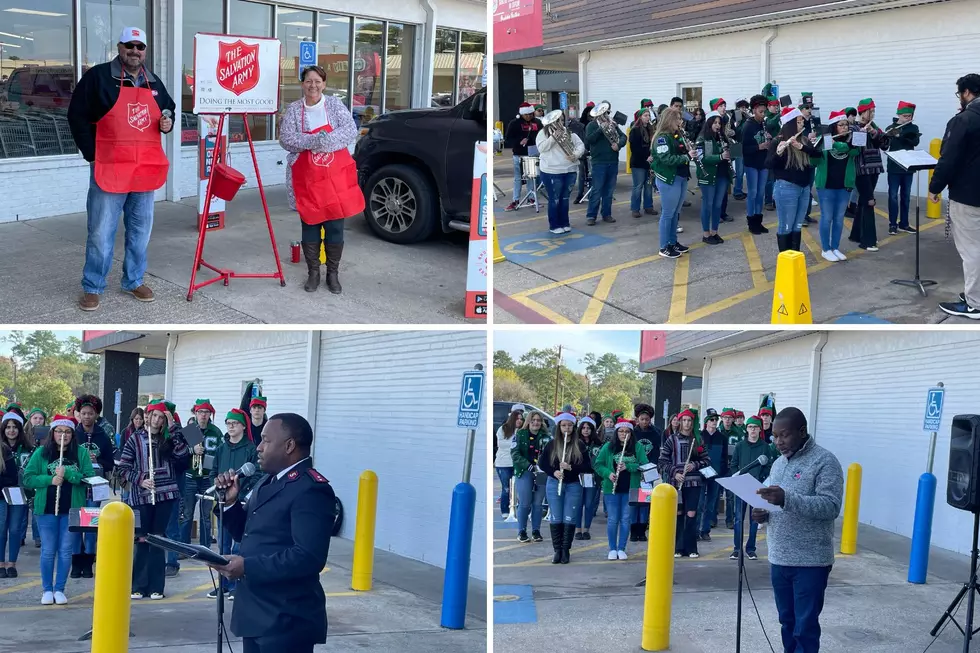 Salvation Army in Lufkin & Nacogdoches Kicks Off Kettle Campaign
KICKS 105
'Tis the season for ringing bells and red aprons.
The Salvation Army kicked off its Christmas Red Kettle campaign on Friday at the Brookshire Brothers on University Drive in Nacogdoches and in the Gaslight Plaza in Lufkin.
Captain Cavon Phillips presided over the kick-off event in Lufkin while Captain Jenifer Phillips officiated the Nacogdoches event. A goal of $200,000 has been set for Lufkin/Nacogdoches Salvation Army donations throughout the holiday season.
At the Lufkin kick-off, the Central High School band got shoppers and attendees in the Christmas spirit by playing songs such as 'Rudolph, the Red-Nosed Reindeer' and 'We Wish You a Merry Christmas'. Lufkin City Councilman Robert Shankle, acting in place of Mayor Mark Hicks, read a proclamation designating November 18, 2022, as the kick-off for the Salvation Army's holiday fundraising period.
Shankle and volunteers from Lufkin Coca-Cola manned the red kettles and rang the red bells for the first couple hours at Brookshire Brothers in Lufkin. The hometown grocer pledged to match all donations up to $250 at each of their locations for money received between 10 am and noon.
Councilman Shankle and Mayor Jimmy Mize in Nacogdoches took part in a friendly competition to see which mayor's office would be able to raise the most funds during the opening two hours of the Salvation Army's holiday drive.  Last year, Lufkin edged out Nacogdoches, but this year Nacogdoches raised $1500 while Lufkin tallied $300.
Between now and December 24, a number of area businesses will have volunteers ringing bells at their storefronts. Of course, they will accept cash, but each kettle stand will have a QR code and NFC tag, allowing donors to use Apple Pay, Google Pay, Venmo, and PayPal.
The Salvation Army is also asking for individuals, businesses, and organizations to volunteer their time ringing the bells.  You can sign up for shifts at RegisterToRing.
Salvation Army 2022 Kettle Kickoff