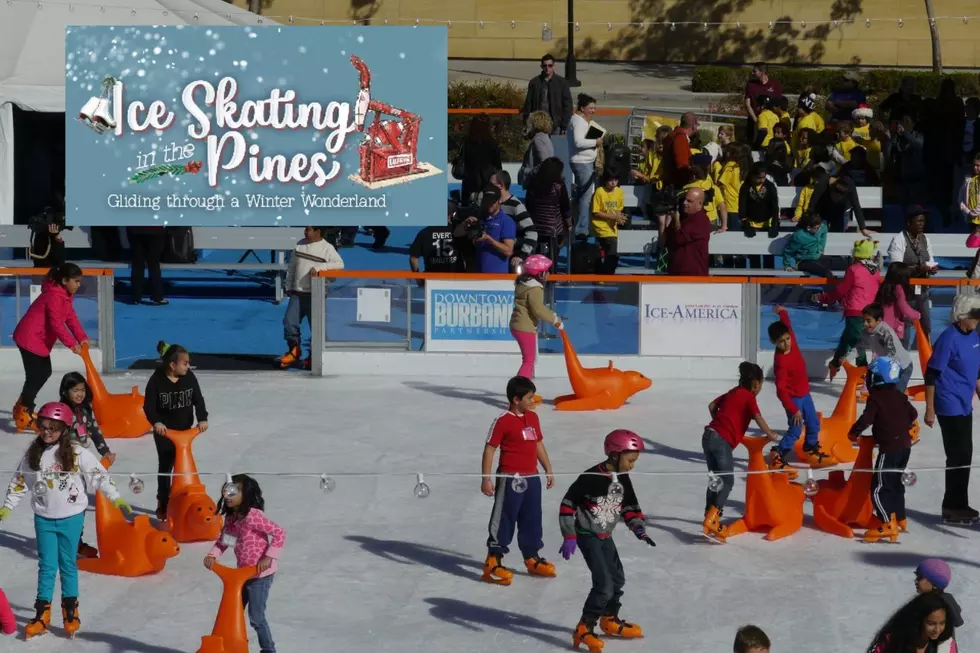 Holiday Ice Skating is Coming to Lufkin…Yes, This is Real Ice!
Contributed Photos/City of Lufkin
If you live in the Pineywoods, and you want to go ice skating on real frozen water, here are some of your options:
During the holiday season, head over to larger cities such as The Woodlands, College Station, or Marshall and take part in their annual ice skating venues.
Travel to the Rocky Mountains in the winter.
Wait for the next Snowmageddon/Ice Storm in East Texas, like the one we had two years ago.  Of course, you might be waiting about another century.
Or...you could go to the Pitser Garrison Convention Center in Downtown Lufkin for Ice Skating in the Pines.
Is This Real Ice or Faux Ice?
This is 100% genuine ice...3,300 square feet of real frozen water.
The City of Lufkin and Visit Lufkin are excited to announce what they hope will become a new holiday tradition in East Texas – Ice Skating in the Pines.
The City contracted with California-based Ice-America to bring a 3,300-square-foot ice arena to the Pitser Garrison Convention Center's Angelina Room. The arena is real ice, not an alternative surface like plastic, according to City of Lufkin Marketing Director Tara Hendrix.
"We are so excited to bring a real ice-skating opportunity to Lufkin without the need to travel two or three hours out of town," Hendrix said. "From Christmas décor and music to lights, hot chocolate, and even jolly old Saint Nick himself – we hope this event creates wonderful holiday memories for the young and young at heart."
So...you've never ice skated before?  That's okay, the training seals (pictured above) will help with the learning curve.
Ice Skating in the Pines kicks off at 2 p.m. on Dec. 3 and will run through Jan. 8. Up to 80 skaters will be allowed at a time and a Zamboni (a smaller version than what is used at hockey arenas) will run hourly to smooth the ice. There will also be special themed nights and pictures with Santa.
"Skating in the Pines opens the same day as The Lighting of Rudolph, so mark Dec. 3 on your calendars as the official start of our Christmas season," Hendrix said.
Ice Skating in the Pines is a great family outing, of course, but think of the other great opportunities:
School field trips
Church youth group (or adult group) outings
Corporate Christmas parties complete with access to the Texas Room
Looking for a Cool Job...Literally?
Ice Skating in the Pines will be operational for over a month, so a friendly, holiday-loving staff is needed to help run this business. The City of Lufkin is currently hiring for seasonal positions including cashiers starting at $8-10 an hour and a general manager at $15 an hour.
Applications for those positions can be submitted online at cityoflufkin.com/jobs.
For more information and operating hours, or to buy tickets go to VisitLufkin.com.
Ice Skating in the Pines Details
Ticket pricing (45-minute skating session INCLUDES ice skate rental):
$12.95 for children 12 years and under
$16.95 for 12 years and older online tickets
$18.95 for 12 years and older in person
Standpipe Coffee House will also have a shop there offering various coffee drinks, snacks, and hot chocolate.
Rules:
Reservations are required and ticket holder MUST show up 15 minutes prior to their ice-skating session.
NO LATE ENTRY IS PERMITTED.
This ticket is valid ONLY on the specific date and time shown on the ticket that you have selected based on availability. This ticket is valid for one – 45-minute ice skating session. This ticket includes your ice-skating session and ice skate rental. Skate aids and helmets are available on a first-come, first-served basis for an additional charge.
Socks are mandatory (not provided) for this ice skate rental. Waiver for ice skating must be signed prior to entry into the ice arena.
Ice skating participants must be able to stand/walk alone without assistance. The minimum shoe requirement is youth size 9. If the participant's shoe size is smaller than youth size 9, skating will not be permitted.
Ice skating sessions are available every evening - rain or shine!
Great Christmas Gifts Found at Buc-ee's
If you have a Buc-ee's fanatic in your life you have plenty of options for Christmas gifts.
Christmas Movie Trivia
Put your Christmas movie knowledge to the test with these trivia questions