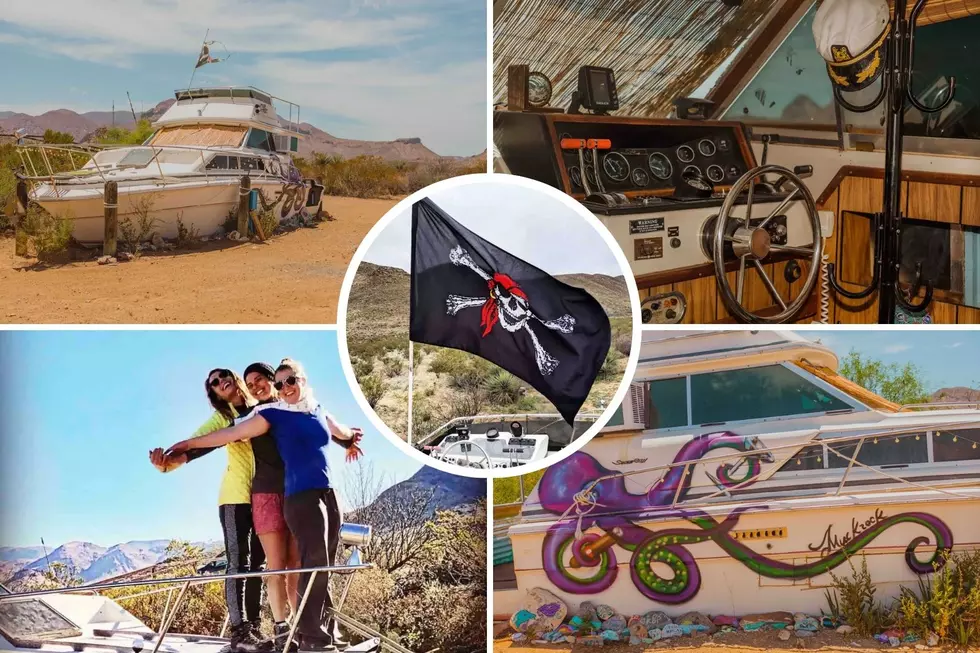 Feeling Free? Clothing Optional Boat Airbnb Sets Sail in Terlingua, Texas
Airbnb/Canva
This is something I didn't expect to see, but variety is the spice of life as they say.
While looking around for interesting places in Texas, I happened upon this Airbnb listing. And what I found what probably the most interesting place I've seen or heard about in a long time.
I mean, who thinks "Hey! Let's make a landlocked boat in the middle of the desert an Airbnb?" Yet, despite my questions of how this came to be, it's a very real thing.
Honestly though, this is one of most interesting places to stay I've seen in a while. And it's more than just a simple run-aground boat. There's a lot to do around the boat that's stuck in the metaphorical Davy Jones' Locker.
According to the listing, the boat is located not too far from some interesting amenities:
- 35 miles to Terlingua, Terlingua Ghost Town, Study Butte, and to the front entrance of Big Bend National Park.
- 5 miles to the back entrance of Big Bend National Park, but high clearance and/or 4-wheel drive is needed for this route.
- 4 miles to Terlingua Ranch Lodge, (available to you) which has a swimming pool, full service restaurant, shower house, and laundry facility.
- 20 miles to the closest grocery store.
- 35 miles to the closest gas station.
The listing also mentions that it has the distinction of being the first "clothing optional" campsite in Tin Valley. So for those wishing to get that true full body tan, this might be the place for you.
Enough talk, let's take look at the spectacular nautically-challenged but cozy vessel:
Feeling Free? Clothing Optional Boat Airbnb Sets Sail in Terlingua, Texas
Feel like getting a full-body tan on a deserted island? This
stranded boat
may be the ticket you're looking for!
Speaking of Vehicle Based Airbnbs...
When all of us were younger, we dreaded getting on the school bus, so why is this unique
Airbnb
in Austin, Texas so charming? The wheels on this bus don't go 'round and 'round, but board it and you'll be on the fastest route to rest and relaxation.
And if your looking to spend time in water instead of out of it...
Feeling hot, hot, hot? Here are six of the best swimming holes in
Texas
to get your chill on and lower that core temperature.
Trips to Discover
and
The Crazy Tourist
both list the following six places as the best places to cool off this summer in the great state of Texas. You'll want to keep this list handy as the mercury rises and the sweat starts to pour!
How about staying in a treehouse?
If you always dreamed of having a summer sleepover in an awesome tree fort, here's your chance. This beautiful
Airbnb in Marble Falls
lets you live your childhood dream with all the comfy adult amenities.