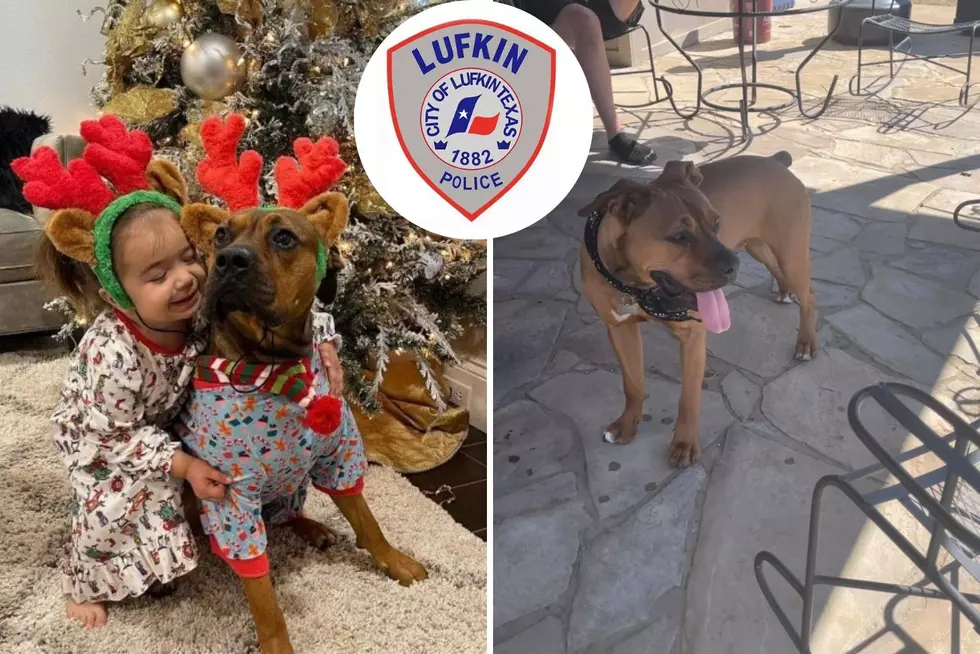 Lufkin Police Need Your Help Bringing This Elusive Pup Home
canva/lufkinpolicedepartment/facebook
Dogs are not just our best friends, they are family. Sometimes they lose their way and we will do anything we can to find them.
We get reports of lost dogs all over town often, and they are usually found fairly quickly. One Lufkin dog is proving to be so elusive that the Lufkin Police Department has gotten involved.
The department has taken a special interest in finding Riko because it's a challenge, and they love a challenge. They have now officially named him the "Hide And Seek World Champ".
Riko Has Been Spotted On Multiple Security Cameras In His Neighborhood
Riko is a brown male boxer with one feature that makes him stand out. He has a very cropped tail, so he is easy to spot in a line-up.
He has been seen in neighborhoods all over South West Lufkin. He went missing from the John Reddit and Southwood Drive area.
He recently made some late-night appearances on security cams on Jefferson Avenue, Falvey Street, and Kiln Avenue on Wednesday.
Leave Food Out For Friendly Riko Tonight In Lufkin
His owner, Rosa Lopez, is asking residents that live in the area to leave food out for him. They are hoping if we do, he will stay in the area.
Lopez is also offering a reward for his safe return, but for LPD the best reward will be seeing Riko safe and back home with his owner. If you have information on this case there are many ways to get in touch with the owner.
Riko has been missing since December 25, 2022 and is amazingly still being sighted in the area. Go to lostmydoggie.com and put in pet ID# 388479 if you find Riko. You can also call the owners at 940-312-3206 or 940-312-3206.
[Look] at the Almost 50 Dogs Rescued from Puppy Mill in Cherokee County
One of the things I can't get over? Despite how much these dogs have been through, you can still see how hopeful they seem. They just need to find loving homes.
5 Most Popular Dog Breeds in Texas (2022)
Here are the most popular dog breeds in the great state of Texas!