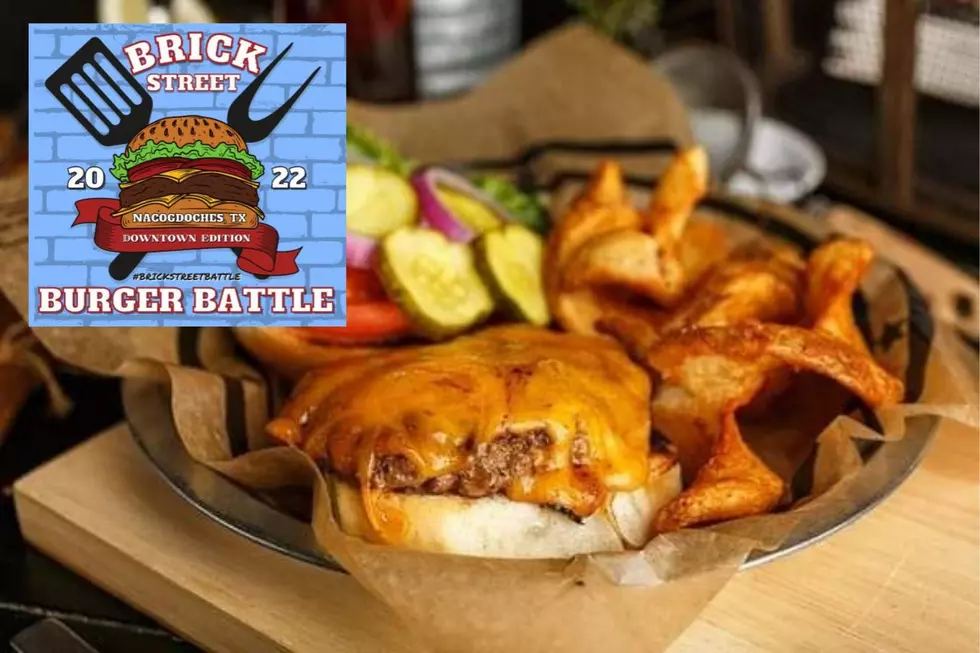 Brick Street Burger Battle Winner Announced In Nacogdoches, Texas
Nac CVB/Cowboy Jack's Saloon and Grill via Facebook
On Sunday, October 23, 2022 we found out who had the best burger on the brick streets of Downtown Nacogdoches. The competition finale party was at the Fredonia Brewery and all of the winners were announced.
I used a burger photo from Cowboy Jack's Saloon and Grill in our first story about the competition, and it must have been my prediction of the outcome. Congratulations to them for winning the Best Burger out of the field of 8 competitors.
Participating Locations:
Brendyn's BBQ (Saturdays only after next week)
Clear Springs Nacogdoches
The Cottage Wine Bar
Cowboy Jack's Saloon and Grill <----- WINNER
Dolli's Diner
Pemberley Tea Room
Stone House Kitchen
The Fredonia Hotel & Convention Center
Their special burger recipe for the competition was made especially for this event along with all of the rest of the entrants. You can still stop into Cowboy Jacks Saloon and Grill at 422 East Main street in Downtown Nacogdoches and try the winning burger.
There was also a cash prize for the patrons that took their time to eat and judge all of these burgers. Nacogdoches Main Street also announced those winners at the event.
Brick Street Burger Battle Winners
$100 Winner - Mark McLendon
$250 Winner - Phillip Habig
$500 WInner - Jan Rhodes
They would like to thank everyone that participated in the competition, and as a result, over $12,000 was spent on burgers since the competition started in downtown Nacogdoches.
This was a first-of-its-kind competition in downtown Nacogdoches and I can't wait to see what Nacogdoches Main Street and Visit Nac have in store for us next.
50 Most Popular Chain Restaurants in America
YouGov investigated the most popular dining brands in the country, and Stacker compiled the list to give readers context on the findings. Read on to look through America's vast and divergent variety of restaurants—maybe you'll even find a favorite or two.
How Many in America: From Guns to Ghost Towns
Can you take a guess as to how many public schools are in the U.S.? Do you have any clue as to how many billionaires might be residing there? Read on to find out—and learn a thing or two about each of these selection's cultural significance and legacy along the way.
25 richest families in America