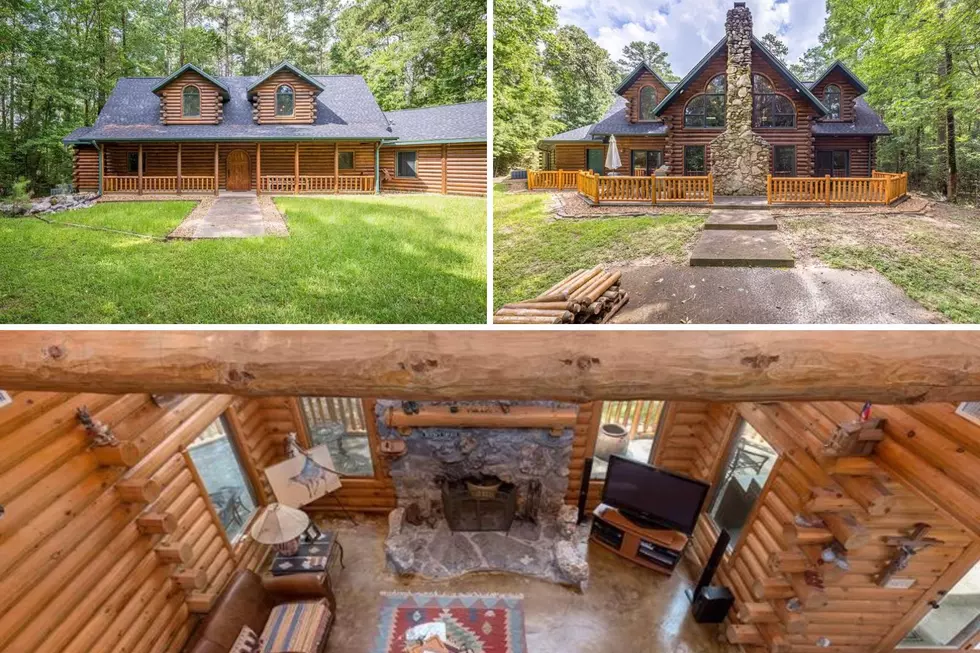 This $1.45 Million Log Home On Lake Sam Rayburn In Broaddus, Texas Has It All
Brian Williford, GRI, ABR Legacy Real Estate Group MLS# 62888
If you love the great outdoors, this place is a dream come true. You can partake in deer hunting and bass fishing all in one place on 42 waterfront acres located on beautiful Lake Sam Rayburn. This isn't just any log home; it's a Golden Eagle.
Golden Eagle Log & Timber Homes is a first-class, log home builder out of Wisconsin. They built this log home as a model home in 2007 and no expense was spared.
Two Story Ranch Style Log Cabin On Lake Sam Rayburn In Broaddus, Texas
Just to have Golden Eagle build you a log home today will set you back $700,000 - $10 million. That doesn't even include the land, and this place is right next to the Angelina National Forest.
When you buy this log home almost everything will stay, including most of the furnishings, feeders, and hunting blinds.
The home was built using whole eastern white pine logs, and each one is interesting in its own way. Large trees are used as posts inside with the stumps melding into the flooring.
3 Bedroom 3 Bathroom Log Home On Lake Sam Rayburn Is A Stunner
Everything inside the kitchen just screams quality, from the Norwegian soapstone countertops to the hickory cabinets and Tennessee flagstone flooring.
There is a huge shop for all of your lake toys, hunting gear, and a couple of vehicles. The outside is timeless and will surely make someone very happy to be on Lake Sam Rayburn.
Take a look at everything this huge lake spread has to offer in the gallery below.
Get Outdoors With This $1.45 Million Log Home In Broaddus, Texas
Hunting and fishing all in one place on 42 waterfront acres on beautiful Lake Sam Rayburn.
Unique Brookhollow Home With A Courtyard And Hot Tub
Though this house was built in 1975 you would never know it with all of these updates.
See Inside Iconic Lufkin House Behind Cracker Barrel
The house could be made into a home again, and it would really be convenient if you hate to cook